As the world takes a detour from waking up to the aroma of the coffee, a separate league of bedside beverage consumers waits to take a shape of its own. It belongs to those who drink green tea and they are the ones who prefer to drink something subtler and less caffeine-centric than coffee.
They are also the ones who prefer to drink something that their liver will thank them for and would help them get closer to a better body shape that coffee can perhaps offer.
They prefer to have it before their workouts and during work hours and possibly even before sleep. While they know their warm cuppa coffee tastes delicious too, but they still can't seem to imagine their lives without their herbal beverage.
Then there is a class of those bearing a taste more exquisite.
Premium Green Tea
They are the ones who go for the superlative degree of benefits by pursuing their tastes through premium green teas. This variant of green tea packs in the best quality of tea leaves (usually Camellia Sinensis) that are known for their rich content of antioxidants like catechins and zero-calorie count.
The process of preparing them is a bit more sophisticated as compared to that of preparing the normal green tea. The premium green tea is available in several flavors and the key to preparing them runs through a selection of the best quality tea leaves and then using them in a way that the aroma of all differentiating herbs remains the same.
For example, in a lemon and ginger flavored green tea, the respective flavors and medicinal properties of both lemon and ginger are preserved and the process of drying green tea leaves is kept to a minimum. This offers a completely natural treatment for the processing of flavored green tea.
Benefits of green tea: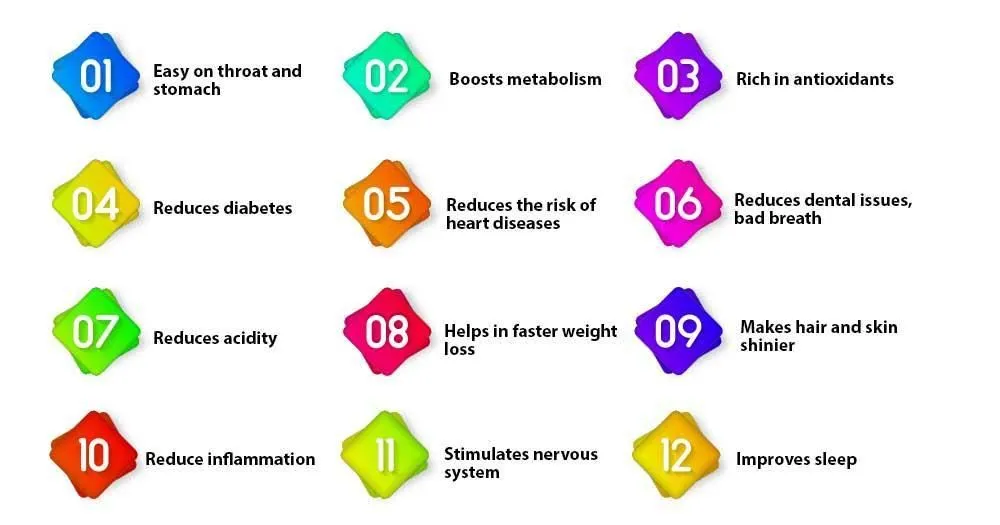 Green tea leaves offer the following health and fitness benefits with regular consumption:
1. Easy on throat and stomach
2. Boosts metabolism
3. Rich in antioxidants
4. Reduces diabetes
5. Reduces the risk of heart diseases
6. Reduces dental issues, bad breath
7. Reduces acidity
8. Helps in faster weight loss
9. Makes hair and skin shinier
Please note that the above qualities are accentuated in the case of premium green tea leaves. It is so because these leaves are free from chemical treatment or excessive drying, and this keeps their medicinal properties intact. When you consume such tea, you also get better experience and motivation to make it a habit.
Also read: Benefits of drinking two cups of green tea every day
What is green tea made of?
The preparation of premium green tea assumes a more sophisticated way. In the case of green tea, leaves are heated and/or steamed for a preset duration of time to reduce their oxidizing process to about half. These processed leaves are then picked up, dried, and then neatly steamrolled into different shapes and sizes as required.
Premium green tea is rich in Vitamins A, B, C, and E plus a truckload of antioxidants and polyphenols. They all come together to work for improving our blood circulation and warding off various forms of cancers and diabetes. The healthy bioactive compounds present in green tea also help in building cellular growth and aid in burning fat by detoxifying the liver.
Suggested article: What Ingredients, Herbs, & Nutritious Values to find in a Premium Green Tea
Nutritious Value of Green Tea
A cup of premium green tea contains more than 99% water and it thus comes up as a child's guess that every single cup of it would take you closer to your daily quota of staying hydrated. One such cup of tea usually contains the following nutritive value, though it may vary for different brands and methods of preparations.
Brewed, regular green tea
Nutritional value per 100 g (3.5 oz.)
| | | |
| --- | --- | --- |
| Energy | 4 kJ (0.96 kcal) | |
| Carbohydrates | 0g | |
| Fat | 0g | |
| Protein | 0.2g | |
| Vitamins | Quantity | DV |
| Thiamine (B1) | 0.007mg | 0.01 |
| Riboflavin (B2) | 0.06mg | 0.05 |
| Niacin (B3) | 0.03mg | 0 |
| Vitamin B6 | 0.005mg | 0 |
| Vitamin C | 0.3mg | 0 |
| Minerals | Quantity | DV |
| Calcium | 0mg | 0 |
| Iron | 0.02mg | 0 |
| Magnesium | 1mg | 0 |
| Manganese | 0.18mg | 0.09 |
| Potassium | 8mg | 0 |
| Sodium | 1mg | 0 |
| Other constituents | Quantity | |
| Water | 99.9g | |
| Caffeine | 12mg | |
Source: Wikipedia
As you would expect, these ingredients translate into multifold benefits for our skin and digestive system (especially the liver and stomach). Here's a free resource explaining how you can use them to your advantage.
Types of Green Tea: The Best Green Tea Variant to Lose Weight
Not everyone who prefers green tea would go in for its bland taste every day- and that's exactly why some reputed manufacturers pep up their offerings with flavored variants of premium green teas. These tea variants are offered with naturally occurring plants with medicinal benefits and the list primarily includes ginger and lemon.
MevoFit's range of Premium Green Teas is preferred by several fitness-savvy health professionals. It comes with the following class-leading products:
1. Anti-Stress Green Tea
2. Herbal and Energy Green Tea
3. Herbal Green Tea
4. Slimming Green Tea
5. Slimming Green Tea Loose Leaf
All the aforementioned tea variants are powered with antioxidants, polyphenols, and Vitamins A, B, C, and E to keep your cholesterol levels in check and to cleanse your liver every day. These teas do not contain any dust or "brokens" to ensure that they pack all the goodness without any compromise. There are no artificial flavoring colors or flavors in them either.
Secondly, they are all made of naturally occurring plants and herbs like Rama Tulsi, Krishna Tulsi, Vana Tulsi, Nimbu Tulsi, Vishnu Tulsi, and other plants like lemon, mint, cinnamon, cardamom, cloves, ginger, and rose leaves. This wide assortment of Ayurvedic plants and herbs is sure to boost the quality of the next cup of premium green tea and if so, what's stopping you from getting one from MevoFit today?
How to Make Green Tea at Home?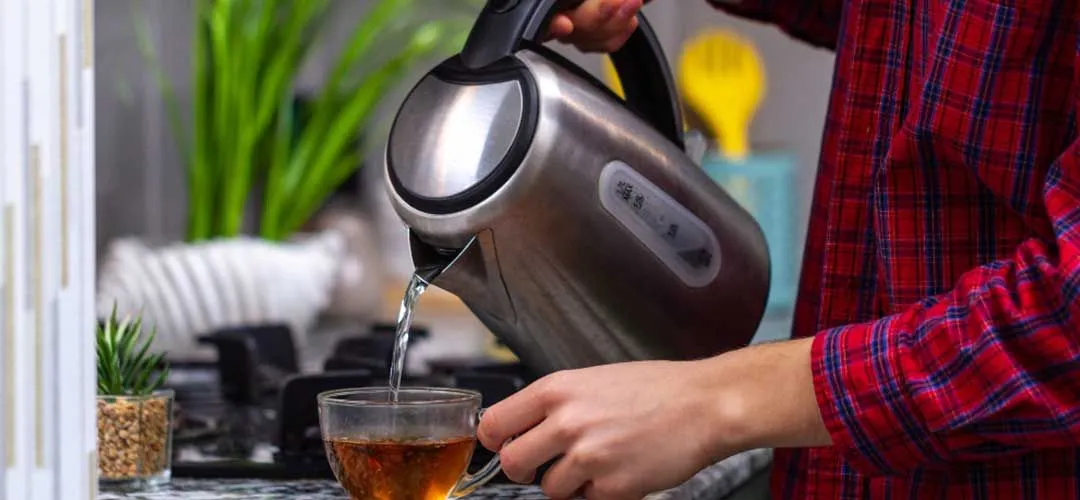 It is a five-minute job to prepare a cup of Instant Hot or Iced Green Tea and to enjoy its top-notch benefits. Here's how you may go about making your first cup of hot or iced green tea right now:
Recipe for Hot Green Tea
Termed as the best variant of green tea for weight loss and improved metabolism, it can be prepared at home easily. You may have up to three cups of this hot beverage every day for improved digestion and to drive out toxins from your liver and kidneys.
1. Take one tablespoon of green tea leaves to prepare one cup of tea.
2. Take a pan and put a little more than one cup of drinking water in it.
3. Heat it slowly at about 85 degrees Celsius.
4. The water would start boiling in a few minutes.
5. Turn off the gas, take the pan off it and add one tablespoon of green tea leaves in boiling water.
6. Be sure not to add any sugar to it.
7. Close the lid and let the leaves brew in the pan for the next few minutes.
8. Now take a small sieve and start pouring the contents of the pan slowly into a cup. Be careful that it doesn't burn you.
9. Your first cup of hot green tea is ready!
Note: Green tea works best when you do not consume sugar with it.
Recipe for Iced Green Tea
1. Put one cup of boiling water in a pan and set it to boil.
2. Once the water has boiled, take it off and add green tea leaves to it.
3. Let it cool for the next few minutes.
4. Take a pitcher and add another cup of cold water to it.
5. Add some fresh lemon juice and honey to it. Stir it well.
6. Now add the cup with green tea leaves to this pitcher and again mix the two.
7. Strain off the leaves and take out the mixture into two cups.
8. Refrigerate them until they are chilled.
9. Garnish with some mint leaves and lemon slices before serving.
Tea Is the New Me!
Green tea makes up for the lion's share among the early morning bedside beverages in several prominent Southeast Asian countries and India too is waking up to its wonderful benefits. This herbal tea comes with a truckload of natural ingredients to help fight signs of aging, liver toxification, cancers, diabetes, and so on.
The best thing is that you can have it all for yourself with just 15 minutes of preparation time. It's about time we switch to its top-notch benefits and go for a more rewarding lifestyle, starting from the moment we wake up every day!