Cinnamon Oatmeal is quite a good option when it comes to having better health and fitness. It is rich in fiber and proteins, and can help you start your day with a bang. If you are a weight loss aspirant, you can have this delicious and power-packed food option to boost your fitness plans.
But this blog post will not take you through the steps you need to make this delicious breakfast. We shall rather touch down on the importance of these two household ingredients and why you should make cinnamon and oatmeal a regular part of your diet.
Let's get started!
Part 1: Oatmeal
Oatmeal checks both boxes of nutrition and taste, especially for weight-loss aspirants. While it is a staple breakfast in South Asia for ages, it is best known for its nutritious component called oat bran. Its porridge provides a high amount of a unique fiber called beta-glucan that offers many health benefits, two of them being faster weight loss and improved metabolism.
Oatmeal benefits: Is oatmeal good for you?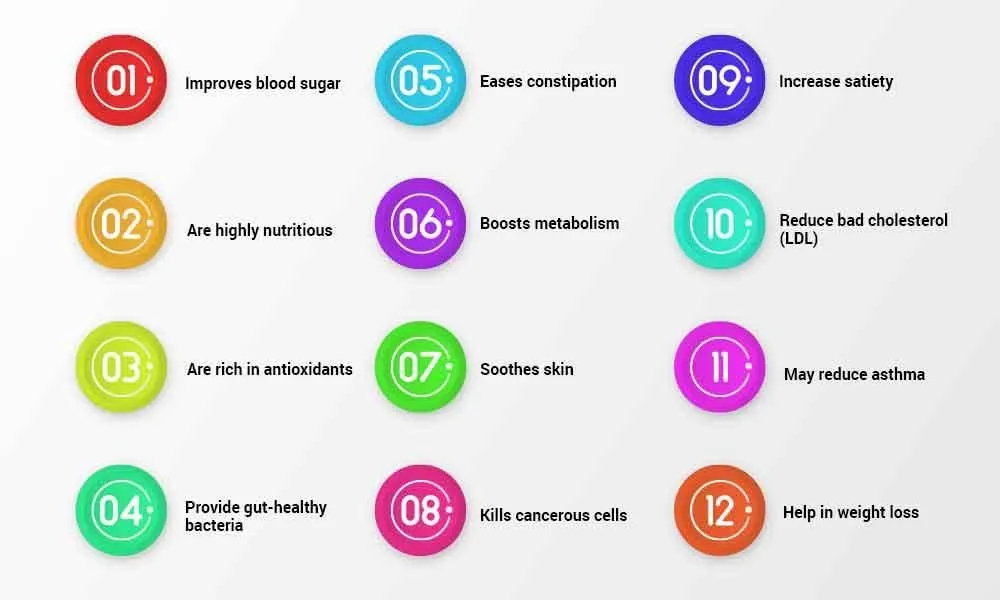 Oatmeal is made of oats, a commonly eaten and used species of cereal grain. Oats come from the plant of Avena sativa that resembles edible grass. You may note that raw oats are gluten-free and thus they make an excellent option for the more commonly used wheat, a staple diet that contains gluten.
Oats are best used to prepare oatmeal or are eaten in roasted form. Including them in your routine diet can help you with the following benefits:
1. Improves blood sugar
2. Are highly nutritious
3. Are rich in antioxidants
4. Provide gut-healthy bacteria
5. Eases constipation
6. Boosts metabolism
7. Soothes skin
8. Kills cancerous cells
9. Increase satiety
10. Reduce bad cholesterol (LDL)
11. May reduce asthma
12. Help in weight loss
Next up is the interesting case of cinnamon.
Oatmeal Nutrition Facts
A bowl of oat bran contains about 50% more fiber than the same size of oatmeal. The former is thus more effective in managing cholesterol levels and boosting the weight loss process. In terms of calories too, oat bran wins the race as it has only 66 calories in a ¾ cup serving in comparison to 124 calories that are found in the same size bowl of oatmeal.
Nutritional value per 100 g (3.5 oz.)
| | | |
| --- | --- | --- |
| Energy | 1,628 kJ (389 kcal) | |
| Carbohydrates | 66.3g | |
| Dietary fiber | 11.6g | |
| Fat | 6.9g | |
| Saturated | 1.21g | |
| Monounsaturated | 2.18g | |
| Polyunsaturated | 2.54g | |
| Protein | 16.9g | |
| Vitamins | Quantity | %DV |
| Thiamine (B1) | | 66% |
| Riboflavin (B2) | | 12% |
| Niacin (B3) | | 6% |
| Pantothenic acid (B5) | | 27% |
| Vitamin B6 | | 9% |
| Folate (B9) | 56μg | 14% |
| Minerals | Quantity | %DV |
| Calcium | | 5% |
| Iron | 5mg | 38% |
| Magnesium | 177mg | 50% |
| Manganese | 4.9mg | 233% |
| Phosphorus | 523mg | 75% |
| Potassium | 429mg | 9% |
| Sodium | 2mg | 0% |
| Zinc | 4mg | 42% |
| Other constituents | Quantity | |
| β-glucans (soluble fiber) | 4g | |
The above data are compiled from Wikipdia and are verified by USDA.
How much fiber is there in oatmeal?
Every 100 gm of oatmeal contains 1.7 gm of dietary fiber.
This offers a positive effect on the digestive and immune systems, besides increasing the satiety of the food we eat.
How to cook oatmeal?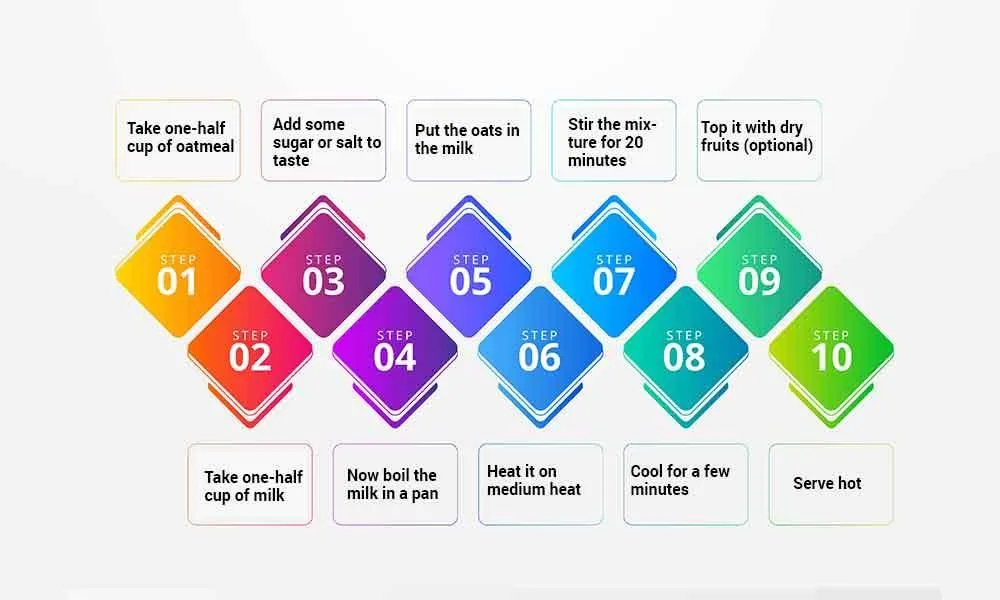 It's easy to make this healthy dish. Here is how you can make a porridge of oatmeal using milk:
1. Take one-half cup of oatmeal
2. Take one-half cup of milk
3. Add some sugar or salt to taste
4. Now boil the milk in a pan
5. Put the oats in the milk
6. Heat it on medium heat
7. Stir the mixture for 20 minutes
8. Cool for a few minutes
9. Top it with dry fruits (optional)
10. Serve hot
Its cereal may taste a bit bland but adding some honey or salt to it will help you get a much better taste. You can also go for oatmeal burgers with soy smoothies every day- they are an excellent source of vitamins and proteins, and they taste just about great!
How is oatmeal good for weight loss?
If you are looking to lose weight naturally, here are three reasons why you should include oatmeal in your daily diet:
Satiating power
Oat bran keeps you satiated for long. It is so because it absorbs the liquid and expands up to 25 times making you full quickly. It keeps you full for a longer duration, which ultimately helps in cutting down the unnecessary calories between the meals!
Note: You can also include buckwheat in your daily list of breakfast options. Widely cultivated in China since the 13th century, this cereal grain packs a lot of nutrients and vitamins. You'd be surprised to know that just half a cup of cooked buckwheat contains 91 calories and 20 gms of carbohydrates!
Intestinal calorie loss
When you eat food, it is broken down into individual components like carbs, proteins, etc. The calories released from these components are then absorbed into the body. When you consume oat bran, it blends with the intestine and produces a sticky gel called bolus that draws out the toxins from the body.
Helps in absorption of nutrients
Oats absorb the nutrient breakdown and flush out the calorie-rich components of fats, glucose, and amino acids through the stool. This process helps to slow down the assimilation of sugar and removes extra calories from the body, thus helping you to stay slim and lose that belly fat faster.
Tip: You should consult your nutritionist or healthcare specialist if binge eating, emotional eating, and acid reflux have a say in your daily routine. It would help!
Next up is the interesting case of cinnamon.
Part 2: Cinnamon
Cinnamon is a natural spice that is made from the inner barks of the Cinnamomum tree. This household spice plays an active role in slowing down the process of digestion in your stomach. It can keep you full for longer durations and its sweet flavor also helps to suffice your sweet cravings.
Cinnamon stands in the same league as the best organic Asian spices that are known for their health-centric benefits like ginger, cardamom, pepper, and mustard. They all are geared to increase the efficiency of the digestive system and to increase our immunity.
Health Benefits of Cinnamon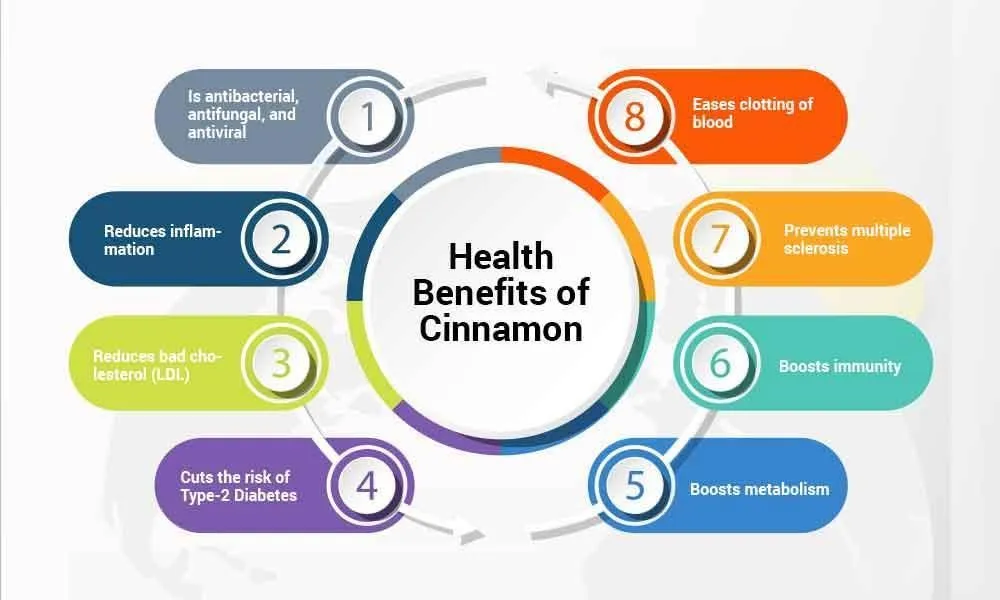 Here is why you should also include cinnamon in your daily life:
1. Is antibacterial, antifungal, and antiviral
2. Reduces inflammation
3. Reduces bad cholesterol (LDL)
4. Cuts the risk of Type-2 Diabetes
5. Boosts metabolism
6. Boosts immunity
7. Prevents multiple sclerosis
8. Eases clotting of blood
Power-packed with medicinal and anti-inflammatory properties, this Asian household spice also features natural antioxidants that may cut the risk of heart ailments to half. It is also used to dissolve ovarian cysts and to improve the sensitivity to the insulin hormone.
Nutrition facts for cinnamon
Here is the nutritional value for cinnamon:
Cinnamon, spice, ground
Nutritional value per 100 g (3.5 oz.)
| | | |
| --- | --- | --- |
| Energy | 1,035 kJ (247 kcal) | |
| Carbohydrates | 80.6g | |
| Sugars | 2.2g | |
| Dietary fiber | 53.1g | |
| Fat | 1.2g | |
| Protein | 4g | |
| Vitamins | Quantity | %DV |
| Vitamin A equiv. | 15μg | 0.02 |
| Thiamine (B1) | 0.02mg | 0.02 |
| Riboflavin (B2) | 0.04mg | 0.03 |
| Niacin (B3) | 1.33mg | 0.09 |
| Vitamin B6 | 0.16mg | 0.12 |
| Folate (B9) | 0.16mg | 0.02 |
| Vitamin C | 3.8mg | 0.05 |
| Vitamin E | 2.3mg | 0.15 |
| Vitamin K | 31.2μg | 0.3 |
| Minerals | Quantity | %DV |
| Calcium | 1002mg | 1 |
| Iron | 8.3mg | 0.64 |
| Magnesium | 60mg | 0.17 |
| Phosphorus | 64mg | 0.09 |
| Potassium | 431mg | 0.09 |
| Sodium | 10mg | 0.1 |
| Zinc | 1.8mg | 0.19 |
| Other constituents | Quantity | |
| Water | 10.6g | |
The above values are taken from Wikipedia and are verified by USDA.
Weight Loss: How is cinnamon good for you?
Being a spice with a "hot" temperament, it optimizes our digestive system. Here are some benefits of including a moderate amount of cinnamon in our daily diet:
Helps in burning belly fat
Abdominal fat is a problem faced by many obese people (BMI: 25 to 30). The consumption of this household spice melts abdominal fat faster and also tones our lower body in a better way. As any healthcare expert would tell you, less belly fat is good for your overall health too.
Expert tip: Calculate your BMI here for free.
Lowers cholesterol levels
Studies have shown that cinnamon can help lower Bad Cholesterol (or LDL) and thus improve your cardiac health. A recent study on diabetic patients concluded that including cinnamon in the diet triggered lower LDL levels among the patients over a certain period of regular consumption.
Metabolism booster
This spice can alter the metabolism levels of sugars, starches, and carbs to promote better health. This can help your body use carbohydrate storage and control its conversion into fat more effectively. Cinnamon and honey together can make a big difference to your digestive system and weight loss plans.
Just like peppers, the presence of cinnamon in your body allows your metabolism to speed up. This can allow you to burn more calories and fasten the overall weight loss process.
How to add cinnamon to your daily routine?
The best thing about this wonderful spice is that it can be conveniently added to any meal you make. Here are a few ideas to include cinnamon into your diet and to lose weight:
Have a glass of lukewarm water with cinnamon powder, honey, and lemon.

Sprinkle a teaspoon on your cereal, oatmeal, or porridge.

Add it to green tea or black coffee.

Add it to green tea or black coffee.
Here's an important tip for you to consider. Always go for fresh cinnamon and avoid capsules and supplements. Incorporating a teaspoonful of cinnamon into your diet can suppress your appetite and help you lose weight and even layers of fat around your abdomen.
Can Oatmeal and Cinnamon Help with Weight Loss?
You may note that oatmeal and cinnamon alone can't help you lose weight. You should rather have a nutritious diet and exercise regularly to achieve your weight loss goals. Most people think it is difficult to leave your dietary preferences and to adopt a more disciplined lifestyle often to stay in shape.
Since oatmeal and cinnamon go well together, they are advisable for fitness professionals and those looking to shed some extra pounds. If you are not sure about your pre- or post-workout foods, here are some other alternatives that you can try. We would also advise you to make persistent changes to your lifestyle and dietary preferences for the best results though.