Knowing the health benefits of quinoa, I have fallen in love with it and have been looking for various ways to incorporate this superfood into my daily diet. But before my various recipes of quinoa, I've only known it in savory dishes. So last night I experimented with it.
I wanted to treat myself to a delicious dessert but with very few ingredients available, I tried whipping up the best I could. And the result was this amazing looking, health-loaded parfait that has all the goodness of quinoa, fruits and yogurt, some yum jam, and crunchy chia.
Tip: It was the best every dish because I had made it with the fruits of my choice, and they included pomegranate, blackberries, and raspberries.
Ingredients
1/2 cup organic blackberry pomegranate fruit spread

4 lemon slices, for garnish
Tip: Here are some smart and delicious ways to include quinoa in your diet!
Method
Combine fruit spread and chia seeds in a medium bowl.

Refrigerate and serve chilled.
Heaven in a cup, layered to perfection. What else do you need to comfort you in the night right? You can always make this according to your taste. Throw in nuts of your choice or any kind of fresh fruit, and it will always turn out great. It would be however important to ask your nutritionist for any advice on it.
Nutritional Info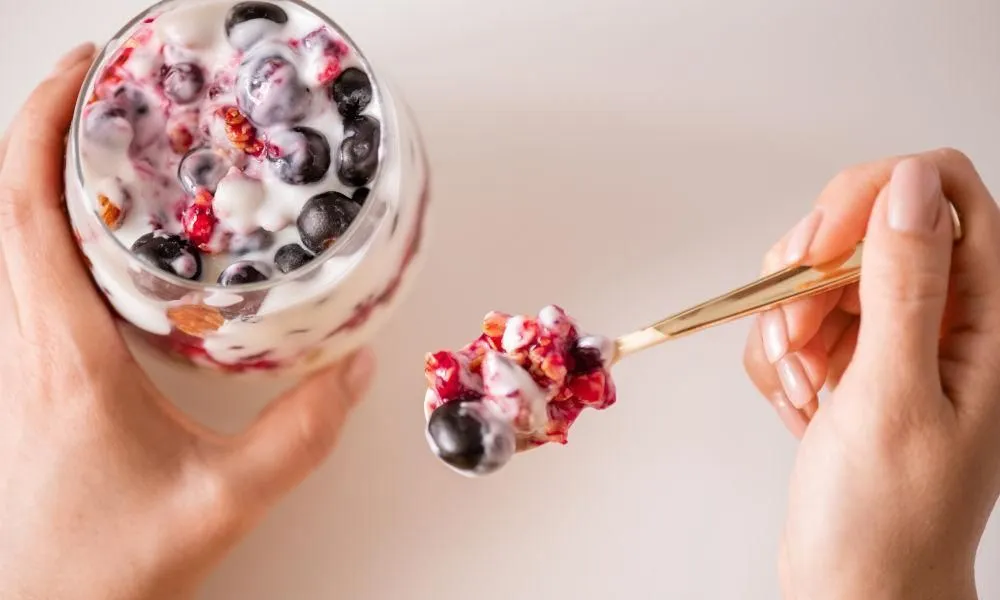 Serves 4
Nutritional Value per Serve:
Enjoy pomegranate blackberry quinoa parfait in breakfast!
The pomegranate blackberry quinoa parfait is considered an ideal breakfast option too, owing to its mile-long list of health benefits and the goodness of fruits. We recommend that you prepare it the night before and so you could eat it in the morning. It is full of proteins and vitamins, and having it every day would help you have better health.