Avocado- the Superfood
Avocado (Persea americana) is a tree native to Mexico and Central America. It is one of the staple ingredients in diets around the world. It is an essential ingredient in a sinful and rich dip for chips, salads, and sweets. It is a nutritious food that provides essential nutrients like fats, fiber, potassium, magnesium, copper, manganese, and Vitamins C, B, E, and K.
This fruit is a boon for everyone, including anyone who enjoys fresh and tasty healthy foods for fitness. It is also of great help to weight watchers because it helps shed extra flab faster. With its proven health benefits like lowering cholesterol, quelling hunger pangs, and reducing belly fat, avocado is arguably the most popular dietary option for fitness-savvy professionals.
Avocado Benefits
Avocado packs in many nutrients and benefits- be it for skin, hair, pregnancy, and weight loss. It all depends on what ends you are eating it for and what results you are looking forward to. However, whatever reason you are eating it for, rest assured that it would still offer you a holistic experience of health-centric benefits.
Rich in fiber and potassium, these green-colored fruits are good for diabetics and heart patients. They can help you lower your bad cholesterol (LDL) and triglyceride levels. One may eat one avocado every day to stay satiated between meals.
Nutritional Info about Avocado
Here is the nutritional chart about avocado.
Avocados, raw
Nutritional value per 100 g (3.5 oz.)
| | | |
| --- | --- | --- |
| Energy | 670 kJ (160 kcal) | |
| Carbohydrates | 8.53g | |
| Sugars | 0.66g | |
| Dietary fiber | 6.7g | |
| Fat | 14.66g | |
| Saturated | 2.13g | |
| Monounsaturated | 9.80g | |
| Polyunsaturated | 1.82g | |
| Protein | 2g | |
| Vitamins | Quantity | %DV |
| Vitamin A equiv. | 7μg | 1% |
| beta-Carotene | 62μg | |
| lutein zeaxanthin | 271μg | |
| Thiamine (B1) | 0.067mg | 6% |
| Riboflavin (B2) | 0.13mg | 11% |
| Niacin (B3) | 1.738mg | 12% |
| Pantothenic acid (B5) | 1.389mg | 28% |
| Vitamin B6 | 0.257mg | 20% |
| Folate (B9) | 81μg | 20% |
| Vitamin C | 10mg | 12% |
| Vitamin E | 2.07mg | 14% |
| Vitamin K | 21μg | 20% |
| Minerals | Quantity | %DV |
| Calcium | 12mg | 1% |
| Iron | 0.55mg | 4% |
| Magnesium | 29mg | 8% |
| Manganese | 0.142mg | 7% |
| Phosphorus | 52mg | 7% |
| Potassium | 485mg | 10% |
| Sodium | 7mg | 0% |
| Zinc | 0.64mg | 7% |
| Other constituents | Quantity | |
| Water | 73.23g | |
| Fluoride | 7µg | |
| Beta-sitosterol | 76mg | |
These values are taken from Wikipedia and are verified by USDA.
Benefits: Avocados for weight loss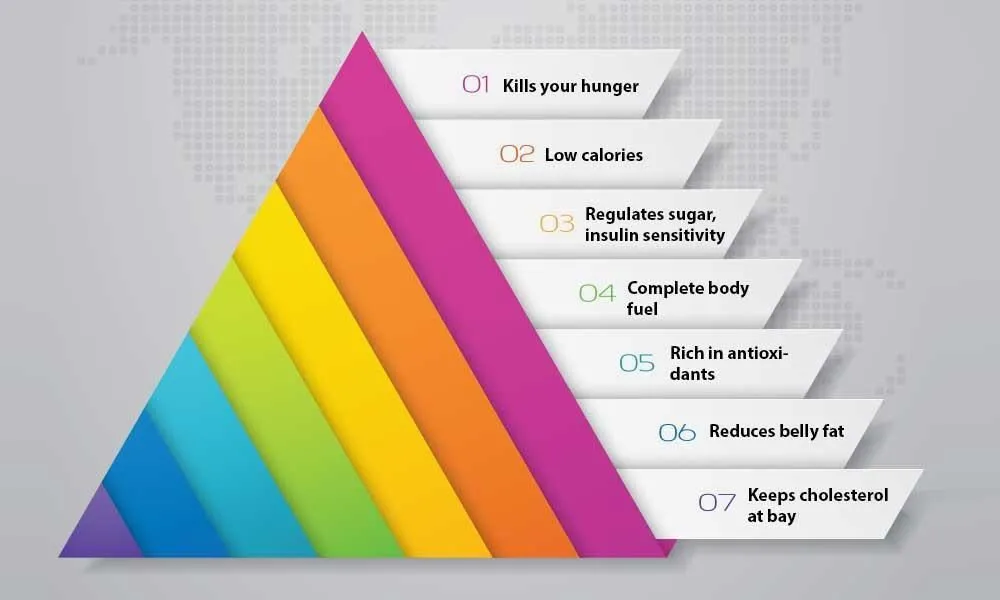 Here are some major reasons why avocado should be your go-to food every day if you are looking to shed some extra flab faster (especially on your belly) in a natural way. It is a fruit and it is easy to digest and is powered by a truckload of nutrition.
Kills your hunger
The Nutrition Journal in a scientific study highlighted that people who ate fresh avocado for lunch had a 40% reduced desire to eat for hours afterward. The freshly made guacamole (avocado-based dip) is considered one of the healthiest snacks.
At 60 calories, this delicious superfood provides a high level of satiety and keeps you away from junk food (read: bad calories) for hours. You should make guacamole at home because the ones sold in supermarkets may be made artificially and may not have all the goodness of this superfood.
Low calories
Research by the American Journal of Clinical Nutrition highlighted the effects of a three-week diet high in palmitic acid (saturated fat) to a calorie diet high in oleic acid (monounsaturated fats). The result of the study highlighted that the physical activity of people following a high oleic acid diet was 13.5% higher as compared to the palmitic acid diet.
This conclusively proves that eating this wonder fruit can provide you the same energy boost that you would get from artificial pre-workout supplements. The high calories in avocados reduce your food consumption and get that extra boost naturally without any bad calories. Since it is a fruit, it is easy to digest and can be eaten instead of unhealthy snacks anytime.
Suggested article: Ketogenic Diet (or keto) is becoming increasingly popular nowadays among the more health-conscious people. Avocados are a regular part of this diet form and you might want to get in touch with a nutritionist online to know how you may eat avocados for weight loss under this diet.
Regulates sugar, insulin sensitivity
A scientific study found that insulin sensitivity is directly related to our intake of vitamin K. This inference was based upon the fact that 25% of research subjects had shown a 19% lower risk of developing diabetes over 10 years as compared to people who had a lower intake of vitamin K.
An avocado provides nearly 20 types of vitamins, minerals, and phytonutrients essential for healthy weight management. This also includes about 14g of satiating fiber and 66% (60 mg) of daily dietary requirement. The best thing is that this South American fruit contains Vitamin K as an integral nutrient.
Complete body fuel
Nutrition Journal in one of its studies found that eating a half-sized avocado daily contributes to improving the overall diet quality and also reduces the risk of metabolic syndrome by 50%. Along with this, it further expands that an avocado eater has a lower body mass index and smaller waist circumference.
If you are looking to lose some extra weight in a faster and natural way, you should choose avocado to get yourself over the line. If you are willing to back it all up with a fitness workout schedule under expert guidance, you can surely get better results over time.
Tip: What Foods Help Build Muscles Fast?
Rich in antioxidants
Antioxidants from fruits and vegetables help in neutralizing the impact of free radicals (toxic wastes of metabolism) in our bodies. Avocados are rich in monounsaturated fats and a scientific study in Mexico (courtesy: Natural Health News) has highlighted that these avocados help in effectively handling the impact of these free radicals and boost up the working of metabolism.
Reduces belly fat
Researchers believe that using avocado oil as a cooking oil offers better health benefits as compared to refined oils. It is so because the former is rich in monounsaturated and oleic fatty acids, and it can contribute to burning belly fat faster. You can also count on a lowered risk of metabolic syndrome if you cook your food in it regularly. The same would help you reduce belly fat and obesity much faster.
A study conclusively found that people who consume about 3 tbsp. of monounsaturated fats daily for a month lowered their belly fat by 1.6% compared to those who consumed flax/safflower oil. (A related aspect is of the blood sugar levels that are affected by diabetes, and here's a free resource you can read on the subject).
Keeps cholesterol at bay
Researchers and nutritionists choose avocado as the best natural fruit available to not only keep doctors away but also keep cholesterol and its related problems at bay. With its exceptional calories and nutrition count, this superfood can also help you maintain a proper balance of HDL and LDL cholesterols in your body.
The studies have attributed the level of monounsaturated fat content available in avocado to play an important part in lowering elevated cholesterol. It is a crucial factor in maintaining insulin levels and controlling excess weight (or obesity).
So, don't forget to make this wonder fruit an essential element for a healthier & happier day and also use it as a key to boosting your weight loss efforts.
Next up is the curious case of quinoa.
Quinoa - the Mother of All Grains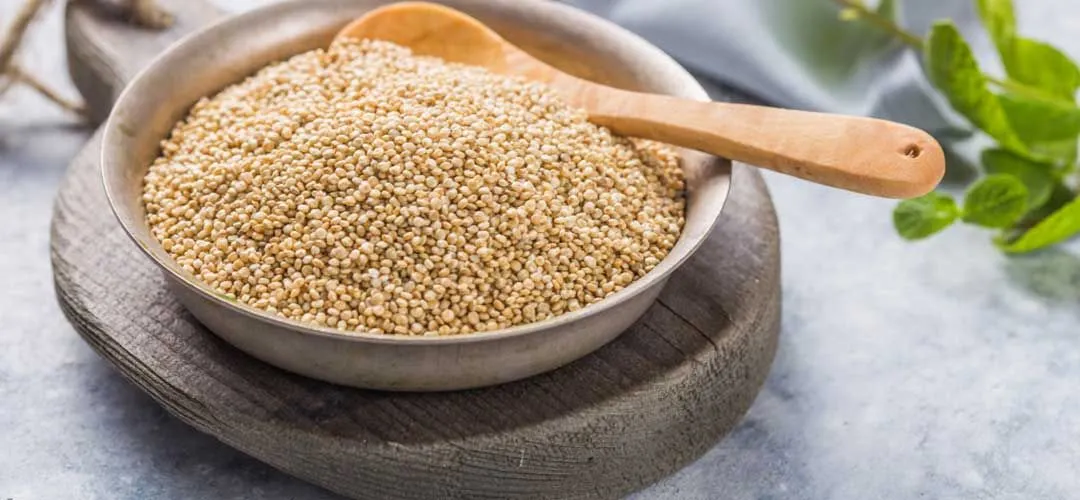 Found in South America, quinoa is a flowering plant in the amaranth family. It grows as an herb and is mostly used for its edible seeds that are rich in nutrients like proteins, fiber, vitamins, and minerals. It is also considered a crop in the rural parts of the region.
The world has recently perceived its reputation as being a superfood. This nutrient-rich fruit is also rich in soluble fiber, a fact that helps it be a popular weight-loss-friendly food and you can surely eat it to reduce your belly fat faster.
Tip: Studies show that this superfood's soluble fiber helps lower cholesterol levels, blood sugar levels, and sugar cravings. It also increases your feeling of fullness and satiation and can be thus used as a proper snack in the evenings.
Health benefits of quinoa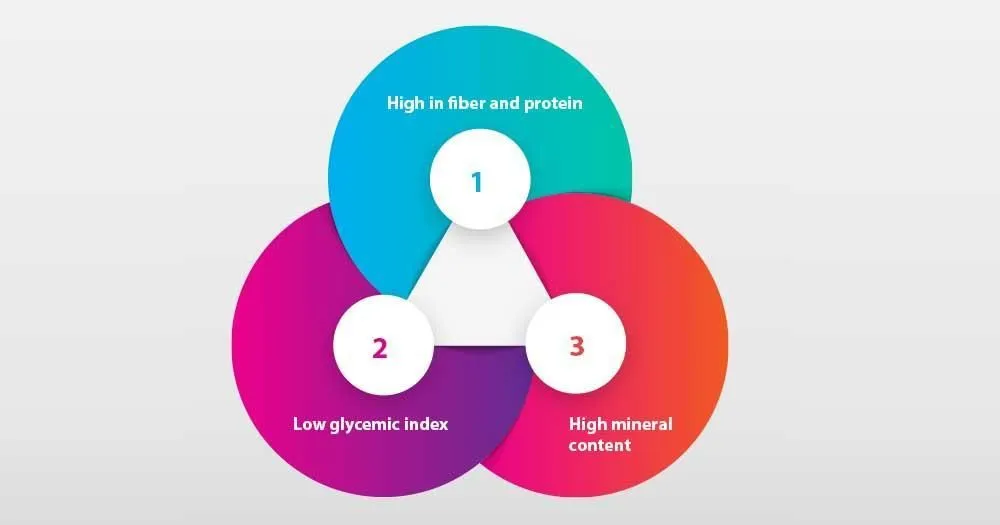 Available in three variants (white, black, and red), it offers a different subset of health-centric benefits. All of them have different cooking times and edibleness. Here are some of the most commonly known health benefits of quinoa:
High in fiber and protein
Quinoa is rich in all essential amino acids and is, therefore, an excellent protein source. It contains far more protein than most grains. Its fiber content beats many other grains too. One cup of cooked quinoa will give you 8 grams of protein, making it an excellent vegetarian protein source for people who do not prefer having animal protein.
The Glycemic Index (GI) is a measure of how fast the food you consume can raise your blood sugar levels. It is especially useful for diabetics who have to keep track of the sugar content of the foods they eat. Here's a smart guide detailing how you can add quinoa to your everyday diet plan.
Low glycemic index
Quinoa has a very low glycemic index and high fiber content. These two factors make it a filling and satiating food that can keep you off the junk for a longer time. While you may not find this tiny, bead-shaped, bitter flavored, and firm-textured grain much to your liking at first, but you won't leave it once you get a hang of it.
If you'd like to try out a new quinoa recipe, you might want to try Healthy Lime, Coconut milk and Quinoa Breakfast Recipe today. It is delicious and full of nutritious content that would keep you energized for the day.
High mineral content
The modern diet does not provide people with enough minerals, especially magnesium, zinc, potassium, and iron. Quinoa has all of these minerals and its magnesium content is about 30 percent of your recommended daily intake.
Make sure you soak or sprout your quinoa before cooking. This will reduce the amount of phytic acid in it, this acid binds itself with the minerals in quinoa making them less edible. You may also include quinoa salad in your daily diet to build your fitness and health up.
How to cook quinoa?
Quinoa can take its own time to cook up, depending on the variant you have. You can follow these steps:
1. Boil 2 cups of water
2. Add a cup of quinoa to it
3. Put some salt (optional)
4. Let it boil slowly
5. Now drain and fluff it
You may also boil it in a pressure cooker by keeping it with some water in the above-mentioned ratio. You should have 2 cups of water and 1 cup of quinoa, and they should be boiled for 15 minutes. Having quinoa and avocados as a daily part of your diet will always have far-reaching health benefits.
You might want to consider consulting a nutritionist virtually to know the right amount you should eat, and how you may include the duo in your fitness plans for the best results. She may also help you with a personalized diet plan, tuned as per your current fitness goals and current BMI.