Seasonal fruits and yogurt make an awesome team together. They could be made into several forms and tastes as per one's wish. Being high-energy foods, you may have them for breakfast or as a tasty snack in the evenings. We prefer them as parfaits, sorbet, and popsicles for their taste and ease of preparation- and here's how you too could have these delights at home!
I just love desserts and I know how hard it is not to indulge in the sweetness of desserts every day. I prefer to add my love for fruits and yogurts to control my sugar cravings and to omit various kinds of preservatives that the packaged dessert options contain. The high-energy quotient that they have is another plus for me.
If you too have a sweet tooth, this blog post will serve you well.
I am also putting up the recipe of sorbet and fruit and yogurt popsicles to help you start your day with a lot of energy and sweetness. These delicacies don't take too much time to make and you'd only need fruits, some sugar, some lime juice, and food coloring to make them. The key is to have fresh produce for the maximum benefit of taste and health.
Benefits of High-Energy Breakfast: Yogurt and Fruits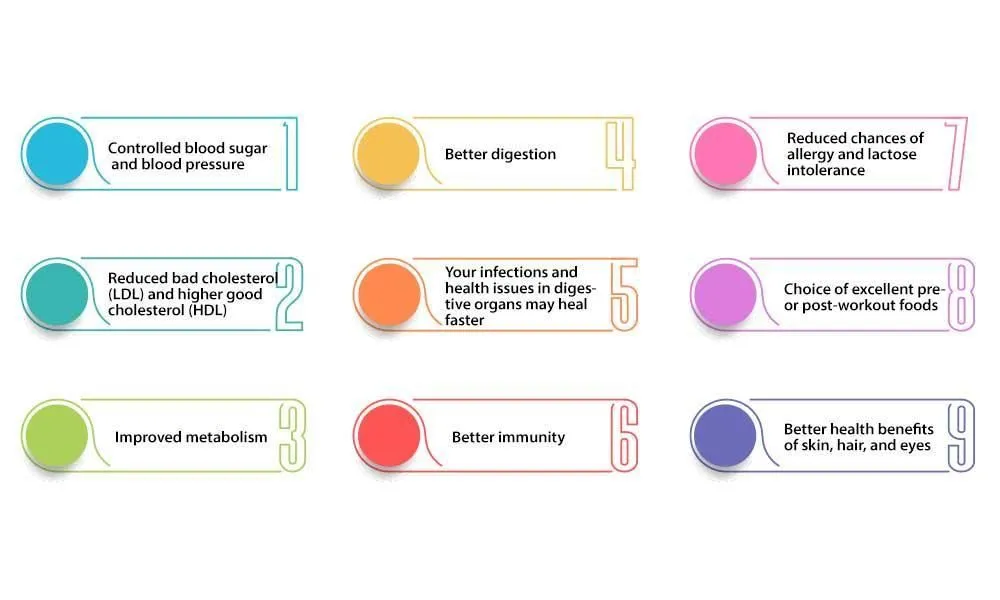 Yogurt and fruits do go along very well. They are high-energy foods that contain the goodness of calcium (of dairy products) and various minerals (of seasonal fruits). By consuming yogurt and seasonal fruits every day, you can achieve the following health benefits:
Controlled blood sugar and blood pressure

Better health benefits of skin, hair, and eyes
Nutrition table of Greek yogurt:
Please find the nutrition chart for Greek yogurt below:
Yogurt, Greek, plain (unsweetened), whole milk (daily value)
Nutritional value per 100 g (3.5 oz.)
| | | |
| --- | --- | --- |
| Energy | 406 kJ (97 kcal) | |
| Carbohydrates | 3.98g | |
| Sugars | 4.0g | |
| Dietary fiber | 0g | |
| Fat | 5.0g | |
| Protein | 9.0g | |
| Vitamins | Quantity | %DV |
| Vitamin A equiv. | 26μg | 0 |
| beta-Carotene | 22μg | |
| lutein zeaxanthin | | |
| Thiamine (B1) | 0.023mg | 0.02 |
| Riboflavin (B2) | 0.278mg | 0.23 |
| Niacin (B3) | 0.208mg | 0.01 |
| Pantothenic acid (B5) | 0.331mg | 0.07 |
| Vitamin B6 | 0.063mg | 0.05 |
| Folate (B9) | 5μg | 0.01 |
| Vitamin B12 | 0.75μg | 0.31 |
| Choline | 15.1mg | 0.03 |
| Vitamin C | 0mg | 0 |
| Minerals | Quantity | %DV |
| Calcium | 100mg | 0.1 |
| Iron | 0mg | 0 |
| Magnesium | 11mg | 0.03 |
| Manganese | 0.009mg | 0 |
| Phosphorus | 135mg | 0.19 |
| Potassium | 141mg | 0.03 |
| Sodium | 35mg | 0.02 |
| Zinc | 0.52mg | 0.05 |
| Other constituents | Quantity | |
| Selenium | 9.7µg | |
| Water | 81.3g | |
The above values are taken from Wikipedia and are verified by USDA.
Recipe: How to Make (Greek) Yogurt Parfait at Home?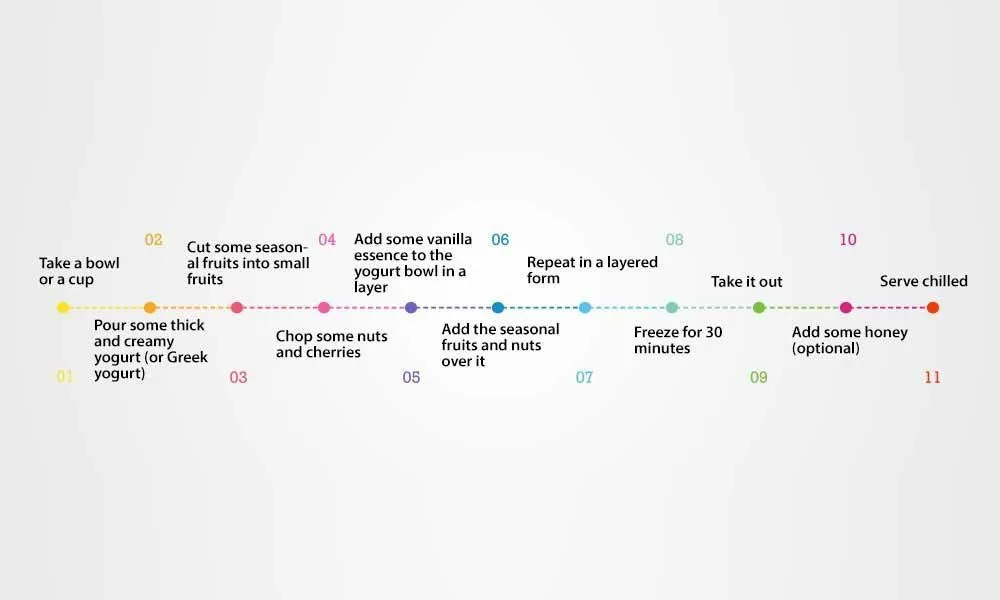 Simply put, a yogurt parfait is a dessert consisting of frozen fruits and yogurt. You may also top it with cherries, nuts, and dry fruits too if you'd like. A Greek Yogurt parfait is quite similar, except that it uses Greek yogurt instead of the regular one. The former is creamier and tastier than regular yogurt, and also has a higher probiotic value.
Recipe:
We are mentioning the recipes of two delicacies called Guava Sorbet and Fruit and Yogurt Popsicles.
Bonus: 2 Delicious Yogurt Foods
Guava Sorbet
Ingredients
2 cups ripe chopped guavas

a few drops of strawberry red fruit color
Method
Combine guavas, sugar, and 1 cup of water in a pan and bring to a boil.

Serve small scoops in long-stemmed ice-cream glasses.
Nutritional info
Serves 2
Nutritional value per serve:
Fruit & Yogurt Popsicles
These fruit and yogurt popsicles are my ticket to reaching out to that 'Uber Cool Mother' status. We all love to be offered a popsicle for breakfast and it usually doesn't take me too much of a trouble to make this recipe any day.
The goodness of fresh fruits and the protein punch of yogurt are just about perfect. You can also note that the most important meal of the day couldn't have been any easier or tastier.
It is rich in vitamin C and can offer you 20% of your daily intake of the vitamin. You may also have it for those special food cravings of yours that are indeed hard to satiate.
Ingredients
2 cups fresh blueberries, raspberries, strawberries, and sliced bananas

8 Popsicle sticks
Method
Here's how to use fruits and yogurts to get more energy!
Blend mixed blueberries, raspberries, strawberries, sliced bananas, yogurt, and sugar

To serve, remove foil and peel off the paper cup
Nutritional Info
Serves 8
Nutritional value per serve:
Fruits and Yogurts: The High-Energy Foods You Can Have Every Day
Fruits and yogurt come with several health benefits. Most fruits are a good source of vitamins, potassium, fiber, and antioxidants that together provide energy and also reduce several health risks. Having some Greek yogurt for breakfast could be an ideal way to have enough energy for the day.
A mix of the two is called yogurt parfait. It can provide you with an exceptional quantity of probiotics, high-quality protein and vitamins, important fatty acids, and a mixture of vitamins and minerals to boost your immunity. We thus recommend that you include these high-energy foods in your daily breakfast.
These were just some of the most delicious recipes that you could make for a healthy breakfast. There are more than 500 such delicious recipes in the all-new Mevo app. You can download this app for free, it is available both on Android and iOS.