Berries are delicious and easy-to-eat fruits. They come as small, pulpy, juicy, rounded, brightly colored, edible fruits with one or more seeds in between. They may taste sweet, sour, or tart, depending on their composition. Some of the most common berries are blueberries, strawberries, raspberries, blackberries, and currants (red, white, or black).
All edible berries are considered an ideal food to lose weight because they are extremely high in nutrients but they do not have any unwanted calories. You can count on these fruits to be full of antioxidants, fiber, vitamin C, and proteins- and a tangy taste. They keep you full and satisfied for long without causing you to gain unwanted weight.
Types of Berries and Their Benefits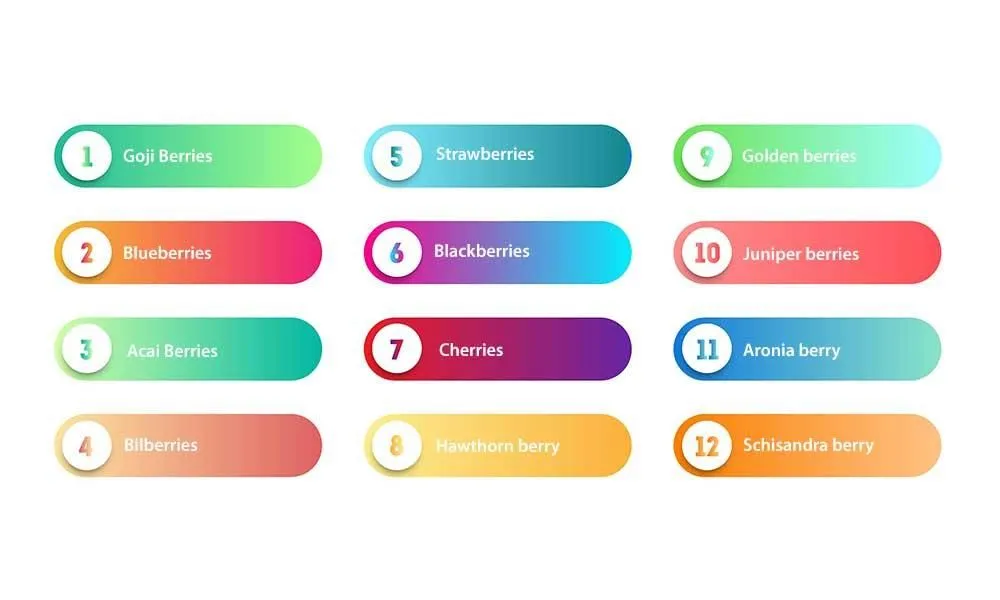 There are many types of berries available. They all differ in shape, size, nutrient count, and geographical availability. We are presenting a list of some common types of this edible juicy fruit along with their nutrient details, and the contribution they can make towards your weight loss and overall health goals:
Goji Berries
The deep red goji berries, also known as Chinese Wolfberry or Mede Berry, contain 18 essential amino acids, 21 trace minerals, vitamins B1, B2, B6, and E, linoleic acid, selenium, germanium, and beta carotene. This potent berry has shown a positive impact on sexual vitality, happiness, longevity, and overall physical strength.
Blueberries
Blueberries are also rich in antioxidants. The deep blue color of this berry is related to high amounts of phytonutrients called anthocyanidin that help in neutralizing the signs of aging on our skin. It reduces the risk of heart diseases, cataracts, varicose veins, hemorrhoids, glaucoma, and peptic ulcers.
PS: Blueberries contain 60 calories, 0.7 gm fat, 1 mg sodium, 12 gm carbs, and 6 gm sugar.
Acai Berries
Acai berry is a relatively new-found health treasure. Due to their strong antioxidant contents, it slows down the process of aging and preventing diseases related to cellular oxidative damage. It is also very delicious so you won't mind popping a few as your evening snack.
Also read: 16+6 Signs To Tell If You're REALLY Healthy (Even If You Don't Think So)
Bilberries
Bilberries also are known as huckleberry, wineberry, and dewberry are three times smaller than blueberries but they are very much similar in taste, appearance, and benefits. Bilberries are extremely high in antioxidant anthocyanidins. Along with being curative towards diabetes, bilberries also protect your eyes and reduce the occurrence of poor vision, cataracts, and macular degeneration.
Strawberries
They are rich in potassium, fiber, vitamin B, vitamin C, vitamin K, manganese, iodine, folate, omega-3 fatty acids, magnesium, and copper. Strawberries are high in antioxidant phytonutrients known as phenols, which play an important role in providing protection from diseases and promoting good health.
Blackberries
Blackberries are more than just powerful antioxidants. They are also extremely high in some of the highest forms of chronic disease and cancer-fighting compounds: vitamins C, E, and ellagic acid. They also hold high levels of the soluble fiber known as pectin, a substance that studies link to lowered levels of cholesterol.
Also read: 12 Factors That Decide Your Health
Cherries
Cherries are high in quercetin and ellagic acid, and they are excellent antioxidant flavonoids that promote cell and tissue health. They also contain melatonin, an important natural chemical related to healthy sleep rhythms and maintaining a youthful appearance.
Hawthorn berry
If you are looking for both taste and medicinal value in one fruit, hawthorn berry should be on your list. It could be had both as a fruit and as for tea. This berry type protects against issues related to the heart like cholesterol and blood pressure.
Golden berries
A powerhouse of unique antioxidants called phytosterols, golden berries offer a higher concentration of fatty acids to reduce bad cholesterol (LDL). These berries are also called "golden" because they are a superfood and they are full of Vitamins A and C.
Juniper berries
Are you suffering from abnormal blood sugar and blood pressure levels? If yes, juniper berry is your go-to fruit. This blue-colored seed fruit offers anti-diabetic, antibacterial, and antifungal properties.
Aronia berry
If you are looking for an all-rounder, Aronia berry is right up there. It is full of minerals that reduce heart ailments and signs of cancer. This tart fruit is used to make jams and sauces. We recommend not to eat too many of them in raw form because they can dry your mouth quickly.
Schisandra berry
Known as the five-flavor fruit, Schisandra berry comes in a purple-red appearance. This delicious berry prevents signs of aging and normalizes blood sugar levels, besides stimulating cell repair growth after surgeries.
Health Benefits of Berries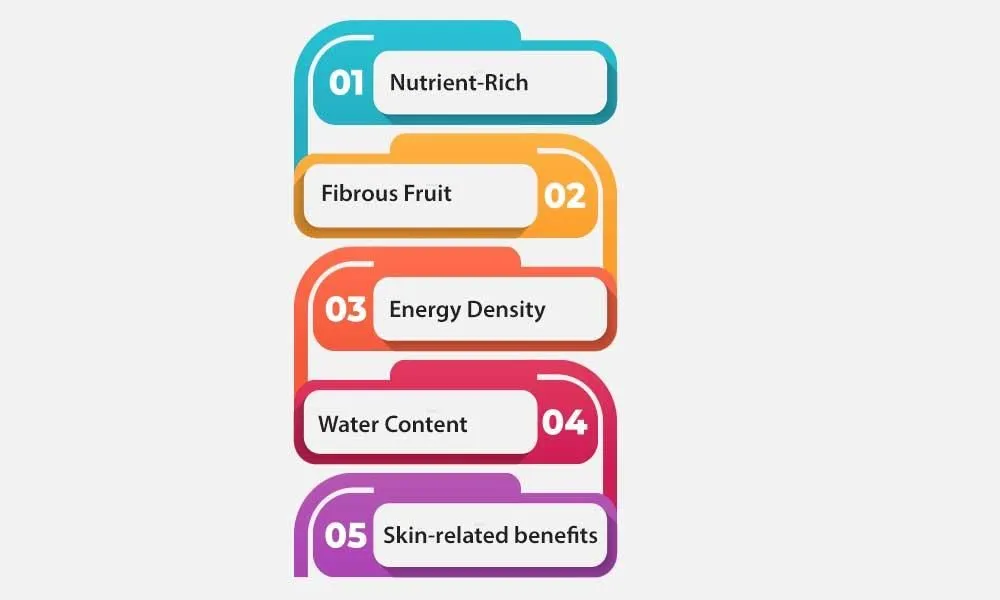 The high medicinal value of berries is often overlooked in favor of their amazing taste. Most of the time we just buy and eat them because these superfoods look attractive and a lot different from other seasonal fruits. We overlook their medicinal and health properties.
After getting a close look at the list of commonly available berries in the market and their nutritional details, let's also have a brief look at the benefits of these berries towards weight loss:-
Nutrient-Rich
Berries are an extremely rich source of antioxidants that helps in fighting oxidation. The latter is a natural process associated with cancer, heart disease, and aging during which cells can be damaged. Black raspberries, red raspberries, boysenberries, and strawberries are super-antioxidant foods with high oxygen radical absorbance capacity.
All dark-colored berries are also high in ellagic acid, which has been proven helpful to kill some cancer cells. Not only this, but these berries are very rich in vitamin C as well.
Fibrous Fruit
Can you believe that there is about 4gms fiber in 1/2 cup serving for blackberries and raspberries, and half that for blueberries, cranberries, and strawberries?
Along with pumping up the volume, high fiber foods also slow down digestion. It is so because fiber takes longer to digest and makes you feel fuller for longer. Some studies indicate that eating whole fruits creates greater feelings of fullness than consuming them either as a purée or juice. This is because of a higher presence of fiber that's driven out in the liquid form.
Energy Density
To lose weight, it is always good to choose foods that have a lower energy density (or fewer calories). The goal of scheduled dieting is to eat a greater volume of food that's lower in calories to help you feel fuller for a longer duration. Foods that are high in water and fiber content but low in fat, such as berries are low-energy-dense foods.
For example, one tsp of butter contains about the same calories as 1/2 cup of blackberries, blueberries, or sliced strawberries. This energy count is somewhere between 30 and 40 calories.
Water Content
A long list of berries ranging from blueberries to raspberries, blackberries, and strawberries, has high water content. Most fruits and vegetables contain water that increases weight, volume, and juiciness but has no calories at all.
Tip: Foods high in water can contribute significantly to a sense of fullness after eating- this contributes a great deal to quicken the weight loss process.
Skin-related benefits
One of the most important effects that berries can bring to us is by keeping us young. These small fruits come with antioxidants that control the formation of free radicals in our body and thus reduce wrinkles and crow's feet. Eating berries with Vitamin E supplements can help you have glowing and shiny skin.
Berry Recipes
Desserts made of this tangy fruit are quite refreshing and low on calories. Since they do not take a lot of time to prepare, you can prepare them as and when you'd want and surprise others.
The ingredients used in this recipe are very easily available at any supermarket. You can even mix and match the flavors and get your very own version of Healthy Berry Tarts and Strawberry Bruschetta. These are a great make-ahead dessert for any occasion like a cocktail buffet, weekend brunch, or a close luncheon.
You can prepare the curd and whipped topping mixture in advance; refrigerate separately until you're ready to serve. Who doesn't love strawberry bruschetta? And it's even better when they are topped with strawberries. The way the tangy, slightly salty goat cheese works with balsamic-coated strawberries and crispy, charred bread is just delectable.
Strawberry Bruschetta
Ingredients
Fresh bread baguette – 1

Sliced strawberries – 1.5 cups

diced grape tomatoes – 1 cup

Minced shallots – 1

Diced nectarine – 1

Sliced fresh basil – 3 tbsp

Goat cheese – 11 oz.

Olive oil – 2 tbsp.

Balsamic vinegar – 1 tbsp.

Sugar – 1/4 tsp

Seasonings – As required
Method
Preheat oven to 375°.

Mix strawberries, nectarine, tomatoes, basil, shallot, olive oil, balsamic vinegar, sugar, and seasonings.

Split baguette in half; cut each half crosswise into 4 equal pieces.

Spread cut sides of bread with goat cheese. Place bread pieces on a baking sheet, and bake until thoroughly heated.

Remove from oven, and top with strawberry mixture. Serve!
Nutritional Info
Calories per piece 68kcal, Carbs 9g, Sugar 1g, Fat 3g, Protein 3g, Fiber 1g
Berry Tarts
Ingredients
1 cup vanilla low-fat yogurt

1/2 teaspoon grated lemon rind

1/2 cup frozen fat-free whipped topping, thawed

1/2 cup + 2 tbsp berry-flavored curd

2 (2.1 oz) packets mini phyllo shells

Grated lemon rind (optional)
Method
Spoon the yogurt onto several layers of heavy-duty paper towels; spread to 1/2-inch thickness.

Cover with additional paper towels; let stand for 5 minutes.

Scrape yogurt into a bowl using a rubber spatula.

Combine yogurt and 1/2 tsp rind in a medium bowl.

Gently fold in whipped topping.

Spoon 1 teaspoon Berry Curd into each phyllo shell; top each with 2 teaspoons yogurt mixture.

Garnish with additional lemon rind and fresh berries, if desired.

Serve immediately.
Nutritional Info
Yields 15 servings
Nutritional value per serve: Calories 65Kcal, Fat 2.5g, Carbs 8.2g, Protein 1g.
It's Time to Be "Berry" Healthy and Fit!
As a powerhouse of antioxidants and nutrients, berries are considered the go-to fruit around the world. Their daily consumption could help you remove deficiencies related to one or more nutrients, and also boost your immunity towards several illnesses. Be sure to stay away from the poisonous berry variants like holly, ivy, bittersweet, and suchlike. Asking a wellness expert too could come in handy!
The sweetest berries grow among the sharpest thorns, but that shouldn't stop you from eating them. We welcome you to try these recipes today and have a healthier experience of staying fit.