Has your training schedule become monotonous and drab? Has it become all about going to the gym, running on a treadmill, and doing strength training every day? Maybe this is why it has become more of a task rather than a fitness activity. Worse, it has started to affect you mentally because you can't derive the same satisfaction from doing them.
This is just where you need to add some fun to your home-based workouts.
Not only would they bring back a lot of freshness into your training schedule, but would also motivate you to challenge yourself with positive results. The key to doing it is to reevaluate your daily workout schedule, find what's missing, and start with some unorthodox exercise models or routines.
What Are Some of the Best Fun Workouts at Home?
Simply put, a fun workout is a non-traditional workout plan that has a high "happiness quotient" to it. The person doing these workouts finds them fresher and more challenging than his routine fitness plan. However, it must be noted that these exercises would still offer a similar level of energy expenditure.
You too can add some fun elements to your workouts to derive more mileage. Several virtual fitness experts advise that you do so in a way that doesn't disrupt your flow or other habits like waking up early and having a nutritious diet.
Free Guide: How to add some zing to your fitness routine?

Some of the best exercises start at home and you do not need to go to a gym or fitness studio to do them. We are offering you an easy-to-do list of fun workouts that you can do in your living room or garden without investing in an elaborate setup.
Note: You can also try a no-equipment workout at home under the guidance of an online fitness trainer. It is easy, simple, fun to do, and challenging enough to stick around.
Here are some simple and easy tips for you to get going today:
Join a dance class
To make your workouts more fun, you may join a dance class for Zumba (or any other dance form). You could choose from several exercises in these classes which help in keeping the fitness routine fresh. Simply go to your nearby gyms, recreational center, or park to find a class that sparks your interest.
Play sports
Competitions are always exciting and motivating. How about you go for a game of soccer or volleyball with your friends or neighbors during the weekend? It would keep you competitive and focused, and would also refresh you mentally.
Go beyond the walls
You may plan to work out in a park. It would help you exercise better because you would have more oxygen and sunlight for yourself. You may also engage yourself in a park strength circuit!
Embrace the Nature
There are tons of smart ways to get fit whilst you enjoy the beauty of nature. How about going on a day trip to a nearby hiking trail or enjoy the water with a canoe ride? You can also go for a jog in a nature park to calm yourself down.
Make some smart use of technology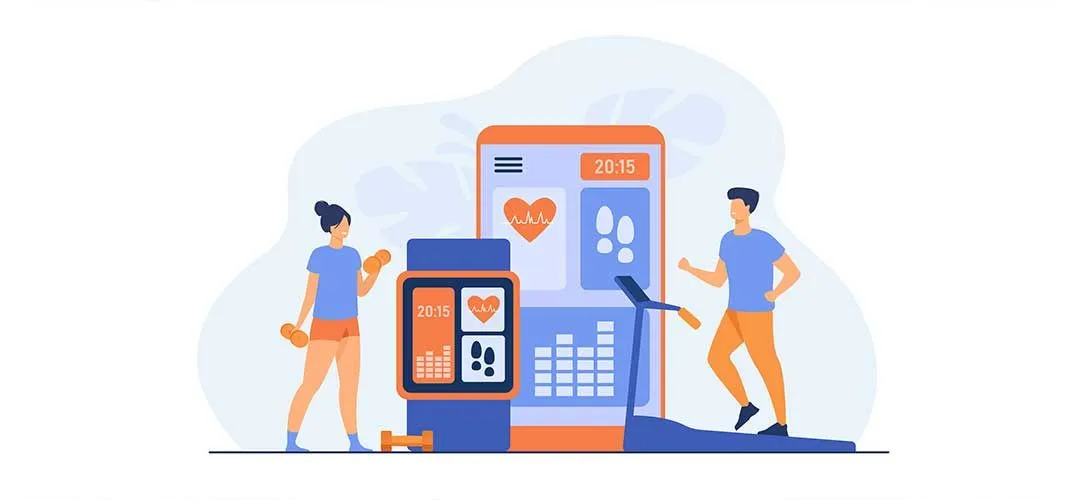 Technology is your best friend when it comes to weight loss and fitness. If you are going in for a quick online dance or virtual Yoga session, wearing a fitness device like an activity tracker or a smartwatch would come in handy.
Don't be boring
Rather than going to the bar with your friends for a drink, how about you go to a club and hit the dance floor or organize a themed dance party? This is the best way to party and have a sweat session along with it. Adding Zumba to it would be great!
Workout with a Friend
How about you make your fitness session interesting by working out with your friends, coworkers, or loved ones. If someone else is counting on you, you're less likely to skip your workout. If you are married, you can bring in your spouse to work with. This would help you have better fitness results in less time.
Go for a Race/Marathon
Enrolling yourself in marathons is another great way to spice up your workout routine. You would benefit from improved health and fitness, positive sleeping patterns, and better dietary preferences. Weight loss is a sure result to avail from it. The best thing is that you don't have to be a professional athlete to enjoy crossing a finish line.
Hire a Coach
A professional coach helps you discover what activities you enjoy and brainstorm new ways to be active. This will also help in improving your weight loss results and being enthusiastic about them. As mentioned above, you can go for a virtual fitness coach if you'd like to have a more personalized experience (it would come at a fraction of the cost of your gym subscription fees).
Some more unconventional fun fitness ideas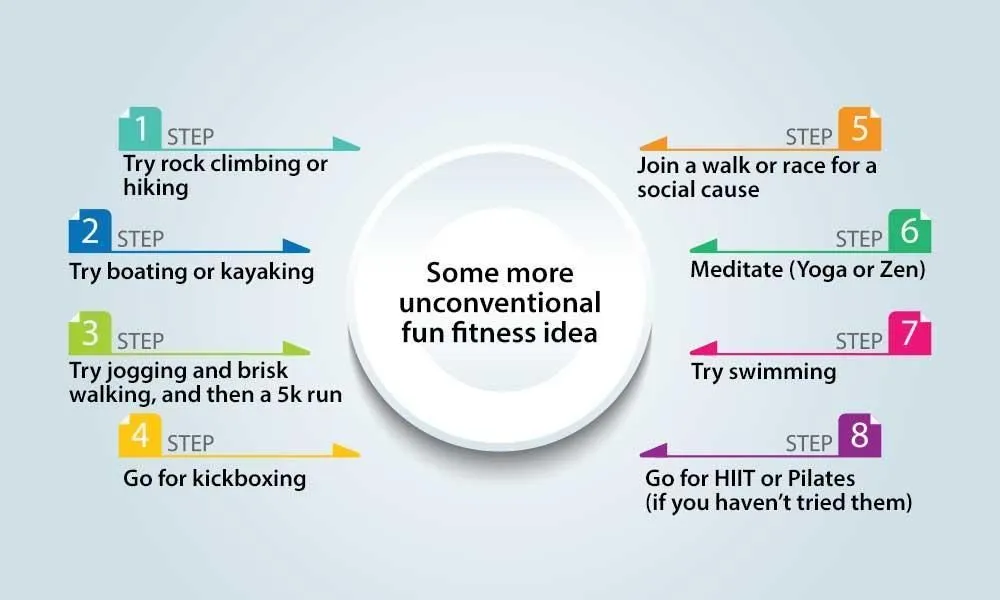 In addition to the above list of fun workouts, we are also offering several more ways that you could use at home. In case you are looking for inputs about how you could make a fitness routine, we have a few options for you:
1. Try rock climbing or hiking
2. Try boating or kayaking
3. Try jogging and brisk walking, and then a 5k run
4. Go for kickboxing
5. Join a walk or race for a social cause
6. Meditate (Yoga or Zen)
7. Try swimming
8. Go for HIIT or Pilates (if you haven't tried them)
We all have different physical and mental standards, and they are all reflected in our respective lifestyles. The worst you could do to yourself is to compare yourself with anyone else- and this adage holds not just for fitness but for everything that you go through.
Did you know? The most important part of personal training is to enjoy and trust the process.
We require a great deal of patience and discipline to stay focused on our fitness goals, but that doesn't mean that not taking any off or not working in the same monotonous manner is welcomed. The more creative you become with your workouts, the better they get.
You can always add some zing to the workouts as per your preference. We welcome you to explore these aforementioned tips and tricks to get back the fun element in your daily workout routine- and get better results in the form of faster weight loss and developing muscle mass.
If you feel stuck, remember that help is just an arm's length away. You may consult our fitness experts virtually to know about how you can add more zing to your fitness schedule and achieve better results!