A Customer Loyalty Rewards Program is a marketing strategy designed to encourage the customers to start and continue using a certain offering from a company. The buyers may be given a card, a coupon, a code, a web link, or a certain offer on their next purchase, usually done in a short while.
Some of these programs won't work until the buyer also refers to a certain brand's offering to his friends or family. Called referral programs, they usually come with a one-time discount or cashback for the two people exchanging information about the company.
Benefits:
There are several benefits associated with the policy of creating and offering a business-centric customer loyalty rewards program:
1. Creates brand recognition
2. Creates brand awareness and acceptability
3. Helps in faster brand recall
4. Helps in generating customer insight
5. Improving customer retention
6. Encouraging repeat business
7. Increasing customer lifetime value
8. Building stronger relationships with your customer
9. Increasing customer satisfaction
10. Providing a differentiator with your competitors
11. Boosting revenue
Each of these benefits is designed to make your current clients more regular and frequent as they avail of your services.
Crafting Tailor-Made Rewards Programs
It is important to tailor your rewards program as per your service dynamics and type of customers. The benefit of using a highly targeted and personalized form of customer attention is that it seamlessly connects you with your clients during or after you are done offering your services to them.
Let's say you are a virtual fitness professional who is busy onboarding your current clients to an integrated online platform so you may offer your sessions as an on-demand endeavor to them. So you can create two types of loyalty rewards initiatives. The first is for the existing customers and the other is for referred or newer ones.
1. This makes sense because the current clients won't have much trouble talking to you, understanding your way of communicating, and working with you. For the older ones, the onus should be to create "stickiness" and encourage referrals.
2. For the newer and referred clients, it is important to help them know that they too can share the responsibility, and the offers should be designed to make them "stay" for longer times. They should also be incentivized to bring in their friends and family along.
Types of Customer Loyalty Rewards Program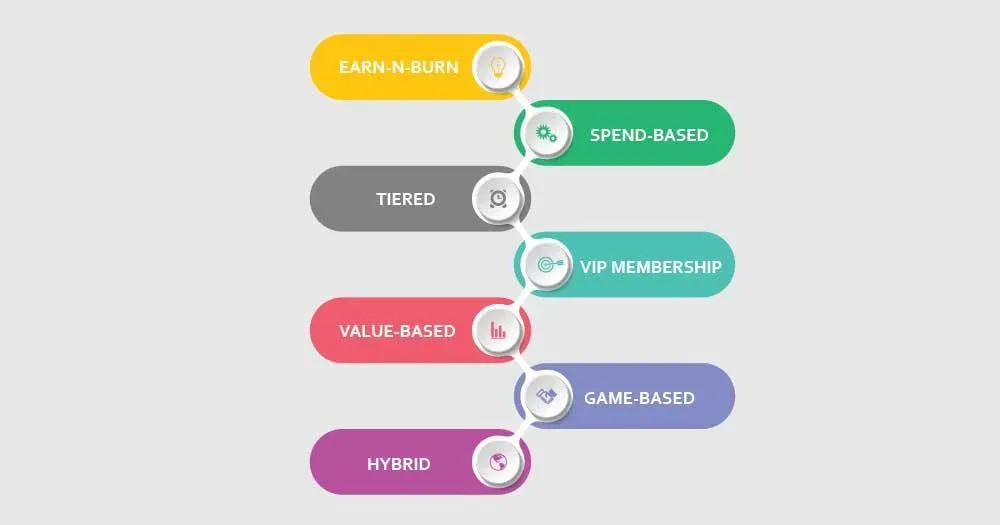 There are five to seven types of customer loyalty rewards programs, as follows:
Earn-N-Burn
Customers are offered certain points based on their spending. These points can only be used at the same business organization that issued them.
Spend-based
A lot like #1 above, except for the fact that the points given here may be redeemed at any of the contracting business partners.
Tiered
It doesn't offer any goodies but only elevates the user to a higher level where there are more rewards. The user has the option to transact their points with a reward at any stage of the process.
VIP membership
They are reserved for elite or luxury products. Such reward points are offered after paying a certain monthly or annual fee, and they are always time-limited.
Value-based
They are based on the emotions that a certain business generates among its target audience. As the value of the service rendered by the consumer increases, so do the value of the rewards too.
Game-based
Usually offered a virtual spin-wheel or jackpot by mostly e-commerce companies, such rewards are offered as the result of chance.
Hybrid
A mix of two or more attributes, as mentioned, constitutes a hybrid loyalty rewards program. It can help you create different options for different user groups.
Which Is the Best Loyalty Rewards Program for Your Virtual Services?
This is not an easy question to answer. You should go for something that is directly in line with your offering (like virtual fitness or healthcare services) and also helps you target new clients consistently. Most professionals would aim for a 'Points' or 'Referrals'-based approach but we would ask you to also go with a Hybrid or VIP membership method because they can help you leverage high-paying clients.
Such high-paying clients are usually consistent and insulated from similarly attractive offers by competing firms. If they like you, they would automatically refer your services to other similar and high-placed friends of theirs.
How to craft a winning strategy?
The key is to thus create one or more highly targeted and "personalized" loyalty plan(s) that you can apply to several sections of your user base. Should they like it, you would find traction coming up rather quickly.
These incentives shall also boost other aspects of your professional relationship like your most popular programs, most hectic timings (schedule), most preferred fee structures, etc. Once you have enough data-backed evidence for them, you can use it to increase the Customer Lifetime Value (or the total net profit that a customer may offer during the time he sticks with you).
Here are some other parameters that you should keep in mind while crafting a match-winning strategy for your loyalty rewards program:
1. Easy to use and explain
2. Different incentives as per different grades and experiences
3. Rapid deployment
4. Positive perceived value for users
5. Cost-effective for you
6. Ability to gain success and run for a longer time
7. Add value to customer-relationship, make it long-lasting
8. Give you a competitive edge
9. Support brand recognition, helps you make repeat customers
10. Engagement beyond your current list of services
A successful client interaction process should be seamless and frictionless. It should follow the chain rule of Awareness > Conclusion > Purchase > Retention > Advocacy. No matter what service or product you are offering, you should know that there is no exception to the above golden rule.
Using a Software-Driven Approach
This is the sweetest part. You can create personalized experiences for your customers both in terms of services and incentives, but you would need a smarter approach to align it all towards generating more revenues. You should also focus on another key term called Customer Lifetime Value, which is the sum of all the purchases that your client shall make from you in a lifetime. You need to maximize this number.
You can use a software-based approach to create a highly profitable, customer-centric, and innovative program. Such smart applications can also help you create rule-based programs and upgrade plans as per your wish.
You can also use them to create various types of loyalty programs (from the ones mentioned above) and match them with appropriate reward schemes. By adopting a granular approach to creating and offering incentivized customer experiences, you can also create event-based triggers for your allied services too.
Special case:
If you are a general physician, you can offer a time-limited experience of a general health checkup to your clients (as per the medical reports offered) at a discount. That is, you can ask them to do a full-body checkup once every six months and you can help them know the inferences of the report at a discounted price if they have been taking your other consulting services.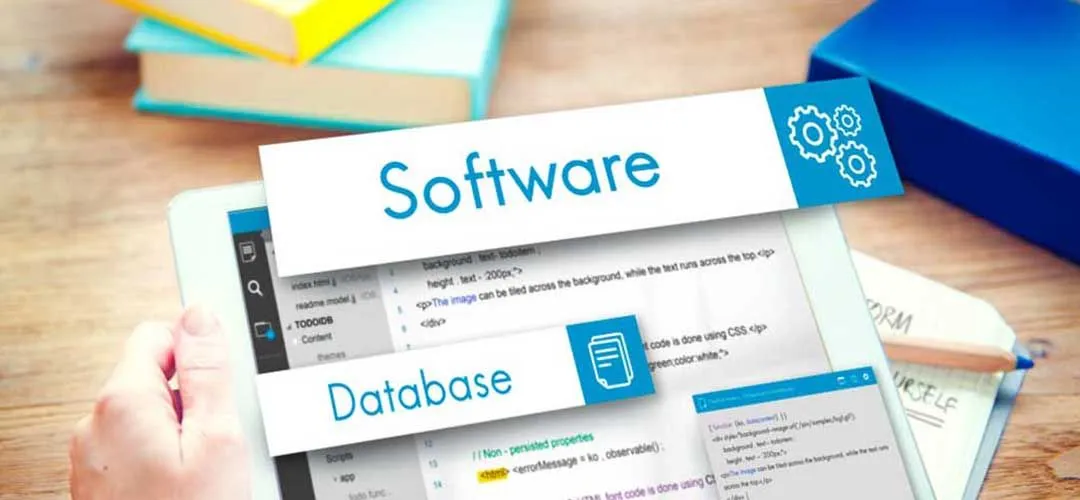 The Best Software for Customer Loyalty Rewards Program
When it comes to such software suites, there are several options available for business houses and big corporations but way lesser ones designed for home and small business owners. This is just why you, as a virtual professional, should use a smart app that helps you calibrate and track such incremental offers.
We could help you with a way out of it with our smart solution. Built using cutting-edge technology, it can help you carefully analyze the following aspects of your service:
1. Behavioral aspect
2. Loyalty and stickiness
3. Your most popular timings and packages
4. Emotional engagement
5. Clients who take your services regularly
Our Customer Loyalty Rewards Points Software offers these results through a combination of data-driven predictive insights and customer-behavior patterns so you could create the most personalized experience for your virtual services.
Features and Benefits
As one of the best software suites for gauging customer loyalty and other related metrics, MevoLife's smart application comes with the following features:
Run customer loyalty program to build customer trust

Attract higher sales from customers with credit points

Get stickiness and increased loyalty from customers

Additional sales from credit points of MevoLife's members
This ace app is just what you need to drive home the mileage of membership management for personal and corporate accounts, loyalty management, gift cards, and rebates to your loyal consumers. What's better, you can also count on it to generate real-time, actionable analytics to make better decisions per unit time.
This tool is optimized for .exe or .apk file-based installations on various handheld devices like smartphones and laptops or PCs. It is lightweight and comes with an intuitive user interface so you could get started with the smallest learning curve ever!
PS: Looking for a free trial? Click this link to try this software free for 30 days and post that, you can choose from these easy monthly or yearly upgrade plans!
It's time to attract loyal customers through tailor-made Marketing Programs
Using an automated approach, you can create a seamless experience for your clients through a graded system of loyalty and reward programs. You can also create customizable promotional templates for all relevant consumer persona and then segregate them into marketing lists for easy tracking.
We also welcome you to align your promotion and marketing services through a well-synchronized email and SMS model to let the town know what you are up to. By offering synchronized push alerts to your entire consumer base, you can gain stronger footholds in some of the most highly competitive global markets and leapfrog your local competition just as easily.