Here comes the star of all the grains- quinoa. It is a tiny, bead-shaped, bitter flavored, and firm-textured grain. Unlike wheat or rice, quinoa is a healthy protein because it contains all nine essential amino acids. It occurs as a flowering plant in the Amaranth family and can be identified with its typical herbaceous plant growth that yields edible seeds.
The United Nations has called it a 'super crop' for its health benefits. It is packed with dietary fiber, phosphorus, magnesium, and iron. It is also gluten-free and easy to digest. Easy to prepare, this healthy food has a fluffy texture and nutty flavor, two factors that make it an excellent alternative to white rice or couscous. The best thing is that you can have it for breakfast every day too!
Quinoa can be used as a prime ingredient in several weight loss delicacies like Pomegranate Blackberry Quinoa Parfait. You may also find some more delicious quinoa weight loss recipes here and here.
How do you pronounce quinoa?
This pseudocereal quinoa is pronounced as 'kveen-vaa'.
Nutrition facts: Is quinoa healthy?
Quinoa is incredibly healthier (and tastier) than rice. One cup of this healthy food offers twice the protein a lot more fiber than a cup of rice. The former also fills you up faster because it is rich in fiber and thus helps with portion control.
Quinoa, uncooked
Nutritional value per 100 g (3.5 oz)
| | |
| --- | --- |
| Energy | 1,539 kJ (368 kcal) |
| Carbohydrates | 64.2g |
| Dietary fiber | 7.0g |
| Fat | 6.1g |
| Monounsaturated | 1.6g |
| Polyunsaturated | 3.3g |
| Protein | 14.1g |
| Vitamins | Quantity |
| Vitamin A equiv. | 1μg |
| Thiamine (B1) | 0.36mg |
| Riboflavin (B2) | 0.32mg |
| Niacin (B3) | 1.52mg |
| Vitamin B6 | 0.49mg |
| Folate (B9) | 184μg |
| Choline | 70mg |
| Vitamin C | 0mg |
| Vitamin E | 2.4mg |
| Minerals | Quantity |
| Calcium | 47mg |
| Copper | 0.590mg |
| Iron | 4.6mg |
| Magnesium | 197mg |
| Manganese | 2.0mg |
| Phosphorus | 457mg |
| Potassium | 563mg |
| Sodium | 5mg |
| Zinc | 3.1mg |
| Other constituents | Quantity |
| Water | 13.3g |
| Link to USDA Database entry | |
| Units | |
| μg = micrograms • mg = milligrams | |
| IU = International units | |
| Percentages are roughly approximated using US recommendations for adults. | |
The above data is taken from Wikipedia and is verified by USDA.
How to cook quinoa in a rick cooker?
The best way to cook it is to use a rice cooker with water. Put two cups of water for one cup of quinoa and then boil it in a rice cooker, and then wait until it beeps out. Now open the lid and let the mixture cool for about five minutes. You may add salt to taste.
How to eat quinoa for weight loss?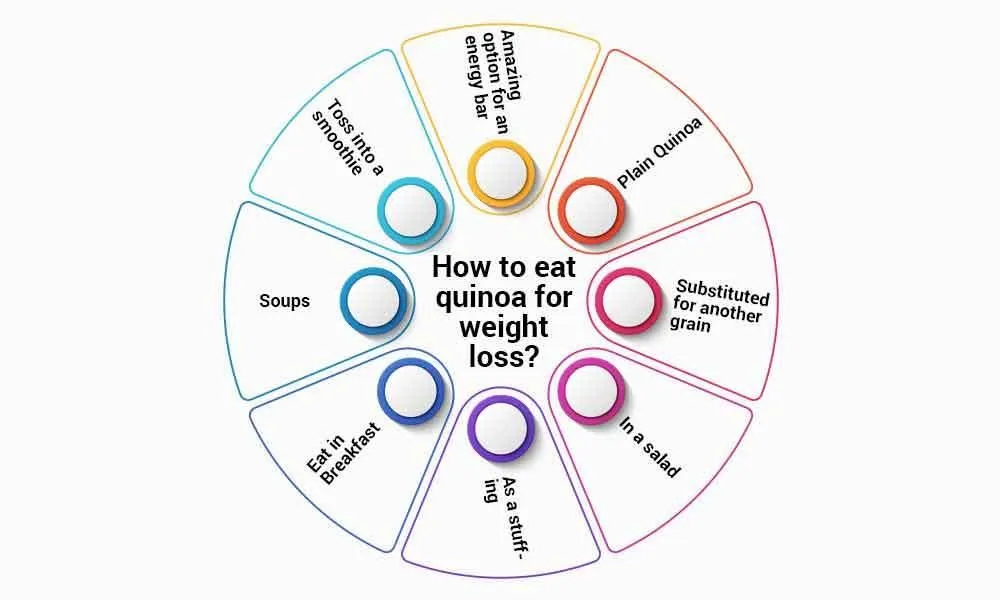 Quinoa's higher calorie count makes it one of the best weight loss foods out there. It has very little taste of itself and thus can be cooked with other staple diets around the world. You can have some of the seeds of this flowering plant and cook them with lentils, rice, or pulses as you prefer.
Here are some smarter ways that you can make this wonder grain a part of your weight loss regime:
Plain Quinoa:
Quinoa has a lovely nutty flavor. You may cook in less than 20 minutes and this makes it a great alternative to pasta or rice for a quick meal. You can simply rinse quinoa, toast in a saucepan, add liquid and bring to boil, fluff, and enjoy!
Substituted for another grain:
This superfood has a similar texture when cooked to other fine and fluffy grains like bulgur wheat or rice. So it's great substituted in dishes that use it as a core ingredient like quinoa tabbouleh or fried quinoa with vegetables.
In a salad:
Quinoa is a fabulous base for easy, quick, filling grain salads. You can start using it as an ingredient in any of your favorite salads and we are sure you will love it.
As a stuffing:
Quinoa makes a great stuffing. You can use it as a stuffing in tomatoes, dumplings, stuffed mushrooms, or Chile relleno. It just goes perfectly with everything.
Suggested article: Will going vegan help you lose weight?
Eat in Breakfast:
Quinoa's high protein content and quick cooking time make it a great breakfast as it will keep hunger pangs away for hours. You may have it with pancakes, some maple syrup, and a handful of nuts, or simply sautéed with a fried egg on top!
Soups:
Quinoa tastes delightful in the form of liquid as well. Just cook it with your favorite vegetables and a hearty soup is ready for you in no time.
Toss into a smoothie:
Though chia seeds or flax seeds are used in smoothies, you can also add quinoa to get that extra punch of proteins. The dose of protein will transform your fruit smoothie into a legitimate morning meal that will keep you full until lunch. Use 1/2 cup of cooked quinoa per 1 cup of smoothie.
Amazing option for an energy bar:
How about making your version of your favorite breakfast bar that too with the addition of quinoa. Doesn't it sound yum? They taste great and are loaded with protein when combined with oats, seeds, nuts, dried fruits, chocolate chips, and your favorite butter.
Here are some questions that our fitness experts have come together to answer.
What does quinoa taste like?
It tastes sweet and nutty but may be bitter when cooked. It is best to roast it before eating.
How much carbohydrates and proteins are there in quinoa? Is it rich in fiber?
Every 100 gm of quinoa has 64.2 gm of carbs, 14.1 gm of protein, and 7 gm of fiber. It also offers 222 calories for every cup- this is far too much an amount of good energy that you can have from any healthy food.
Is quinoa keto-friendly?
No. This pseudocereal is high in carbs that somewhat limits its usage in ketogenic or keto diets.
Can it be taken with a paleo diet?
Strictly no. This flowering plant contains some nutrients called saponins that harm the inner lining of small intestines when taken in large amounts.
Is quinoa a complete protein?
Being a gluten-free food that is packed with nine essential amino foods, quinoa is a complete protein-based diet in itself.
How to rinse quinoa?
1. Take some quinoa
2. Wash it under running water.
3. Use a strainer to drain excess water.
4. Repeat the process once again.
5. You are good to go.
Is it healthier than rice?
This flowering plant of the Amarnath family contains all nine essential amino acids. This makes it a way healthier option for rice, or even wheat.
Is quinoa gluten-free? Is it safe for Celiac disease patients?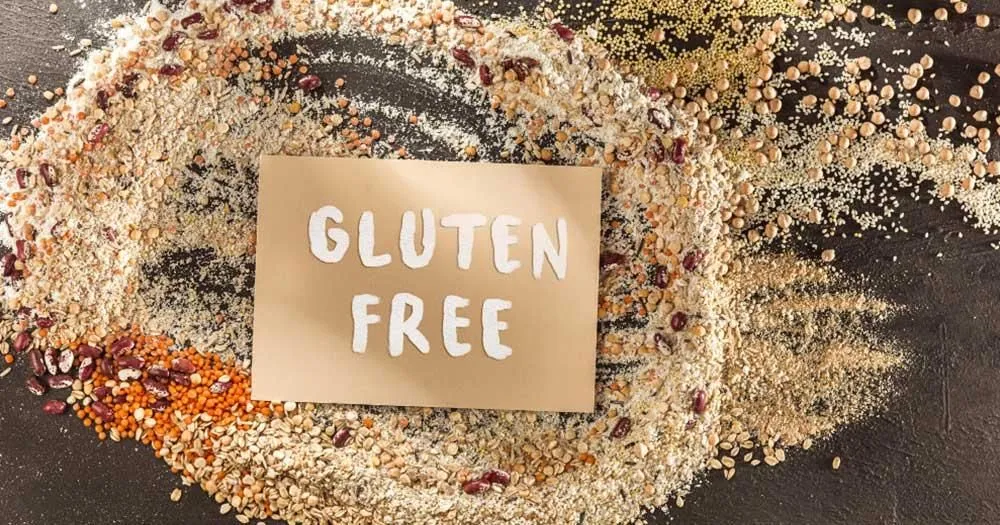 It depends on the quality and grade of the quinoa that you have opted for. While it is usually gluten-free, it still contains some proteins that might trigger an allergy or autoimmune chain reaction. Celiac patients should not eat quinoa unless advised by a healthcare expert.
Quinoa offers superior health and weight-loss benefits
Quinoa is more versatile than you think and will surely contribute to boosting up the weight loss process. With its high count of calories and carbohydrates, it is indeed a smarter option for health-conscious people.
This satisfying superfood is also richer than most of the other grains in dietary fiber, protein, vitamin B, and other dietary minerals. This is another reason why people around the world prefer it every day. We recommend that you try making it a substitute for rice and wheat in your daily diet.
Download the Mevo app now from Google Play Store (link) or App Store (link) to get amazing healthy recipes that will keep you motivated to accomplish the weight loss goals faster and live a healthy life.