Kickboxing is a stand-up combat sport based on kicking and punching, historically developed from karate mixed with boxing. Founded in 1960 in South Asia, it is practiced for self-defense, general fitness, or as a contact sport. It also doubles up as an excellent cardio workout and can be a great substitute for your regular aerobic exercises.
Several online fitness experts also maintain that doing kickboxing workouts at home helps in a faster weight loss experience, especially for beginners. It can help you burn up to 750 calories per hour if done correctly. However, since it is an intense full-body workout, it is important to do it carefully and under proper expert guidance only.
Why Try Kickboxing?
An intense workout session of kickboxing can be tiring, demanding, and straining on most people. It is so because it is a sport and one needs to be at their top game at all times with it. Even to start and continue with it, you would need to lose extra weight (especially on your belly and thighs) and be prepared to work for longer hours.
It is a full-body workout that would strain the targeted muscles in your body to get working, especially the core. You would need to focus your sensory aspects on faster reflexes and agile motions. Besides, twisting is an important part of this workout regime and this will test your midsection.
Tip: You may also use the steps learnt for self-defense too.
Benefits: Why Should You Go for Kickboxing Workouts at Home?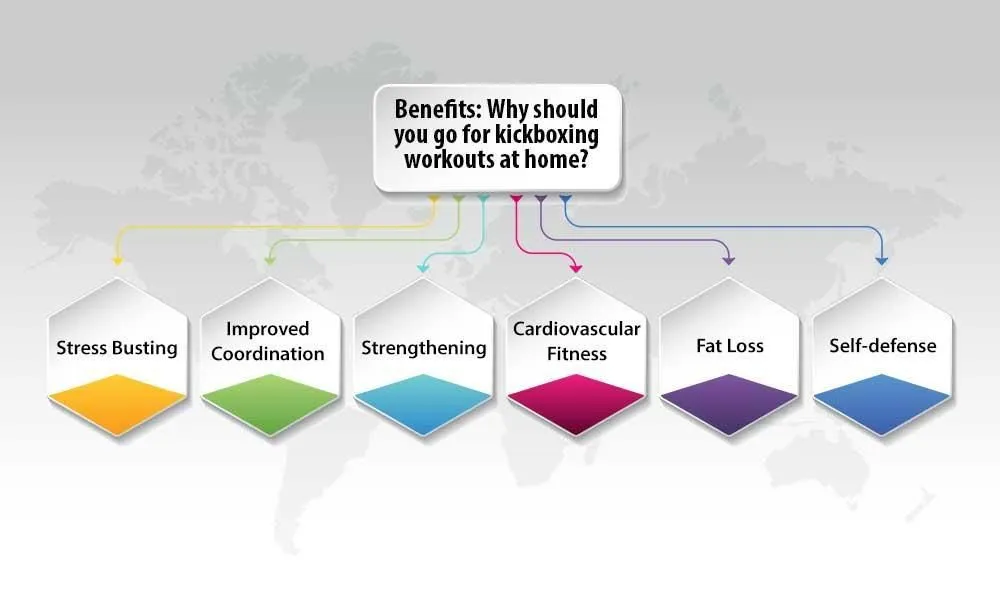 Here are some of the most important benefits that you may avail of from regular workout sessions of this aerobic exercise, even if you are doing it at home. Our online fitness experts advise all beginners to start with a proper warm-up and some easy stretching before going ahead with a session.
Here's why kickboxing is one of the most efficient and effective cardio workouts that help you stay in shape and increases your strength:
Stress Busting
What can be more stress-relieving than taking out your frustration on a punching bag? According to the American Fitness Professionals and Associates, kickboxing is an excellent method of reducing stress and gaining some peace of mind.
This high-intensity home-based workout could compensate for the lost endorphins during stress. The workout stimulates the release of feel-good chemicals such as dopamine and endorphins that result in positivity, happiness, and an overall better mood.
Improved Coordination
All that kicking and punching action involved in kickboxing helps improve your coordination and balance. You'll notice an improvement in your reflexes after a few workout sessions. It is so because you need to stand and move for both right- and left-footed attacks.
Strengthening
It is important to perform the movements with greater precision and power, and this could only result from strong upper and lower body muscles. Practicing different positions will also boost your abdominal muscles and hamstrings, thus improving your core strength.
Did you know? Core strength is important for every aspect of your life, from carrying grocery bags to lifting killer weights.
Cardiovascular Fitness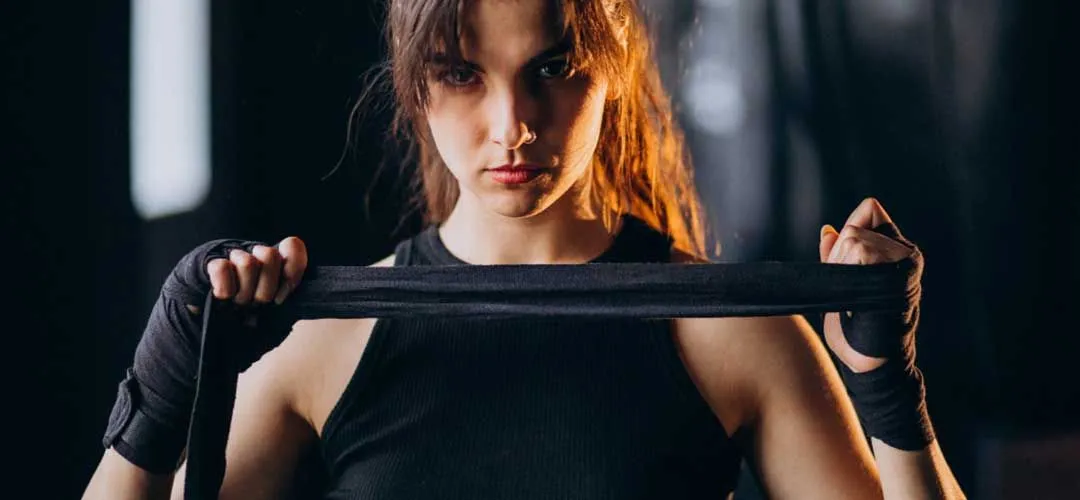 If you ever visit a kickboxing class, you'll see people drenched in sweat. A good workout session requires focus and constant movement, and as you continue it, you improve your heart rate and blood circulation.
If you have worked out properly, you can count on burning some calories even after you have stopped the exercise. This is called the after-burn effect and is better known as Excess Post-Exercise Consumption or EPOC.
Fat Loss
To maximize your fat loss results, try adding a jump, such as through jump rope. Adding more jumps to a kickboxing workout may help you torch anywhere around 750 to 900 calories per hour, which is something you cannot expect from a regular workout.
For comparison, you can burn up to around 350 calories per hour of jet skiing.
According to one study done by the American Journal of Physiology, aerobic exercises do a much better job at burning belly fat than resistance workouts by annihilating about 67 percent more calories.
Self-defense
If you ever have to defend yourself physically, you'll have the right skill set to do it. Kicking and punching are important self-defense techniques. All martial arts prepare you to be agile to both attack and defend in the case of an assault.
You don't have to practice this martial art with someone- you can also use a punching bag to develop your strength and speed. This would also help you know what your strengths and weaknesses are.
What are the best kickboxing workouts that can be done at home?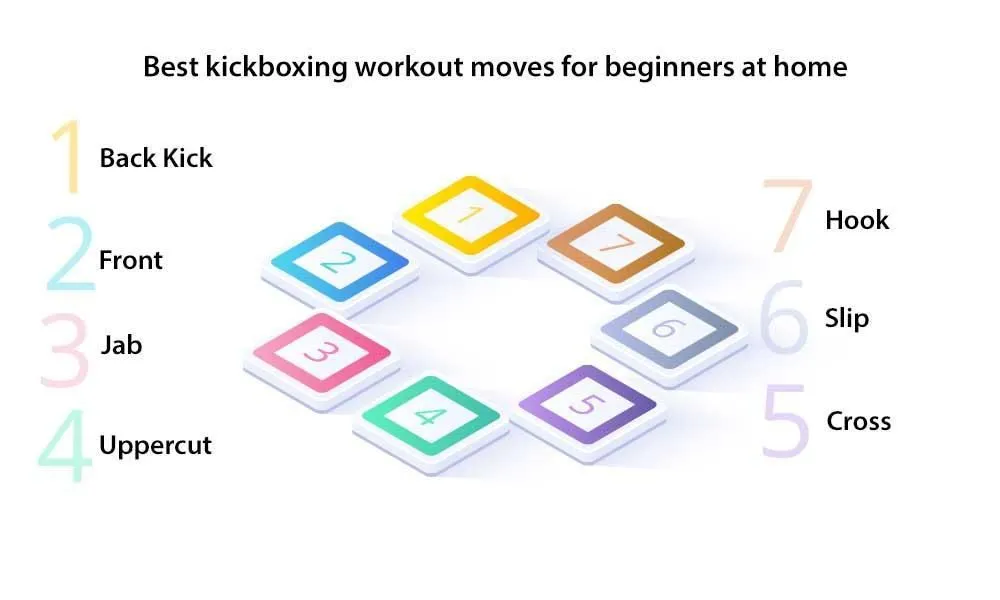 There are no specific exercises that you would need to do for hours. The best part of learning a discipline of martial art is that you could replicate the same moves as you would in actual combat or vice versa. Here are some of those moves:
1. Back Kick
2. Front Kick
3. Jab
4. Uppercut
5. Cross
6. Slip
7. Hook
Most beginners think of this South Asian martial art as something based on rapidly swinging leg movements (often called flying kicks). Nothing could be further from the truth because kickboxing requires using all the body parts in unison, even if you are just kicking someone.
This is why it is so important to strengthen both the upper and lower body parts so they can remain in force during the workout (and also in a spar). As such, it would be important to focus on maintaining some distance, readying oneself for attack and defense, ducking quickly, and relying on a mix of timing, power, and strength all the time.
Free Guide: Online Kickboxing Workout for Beginners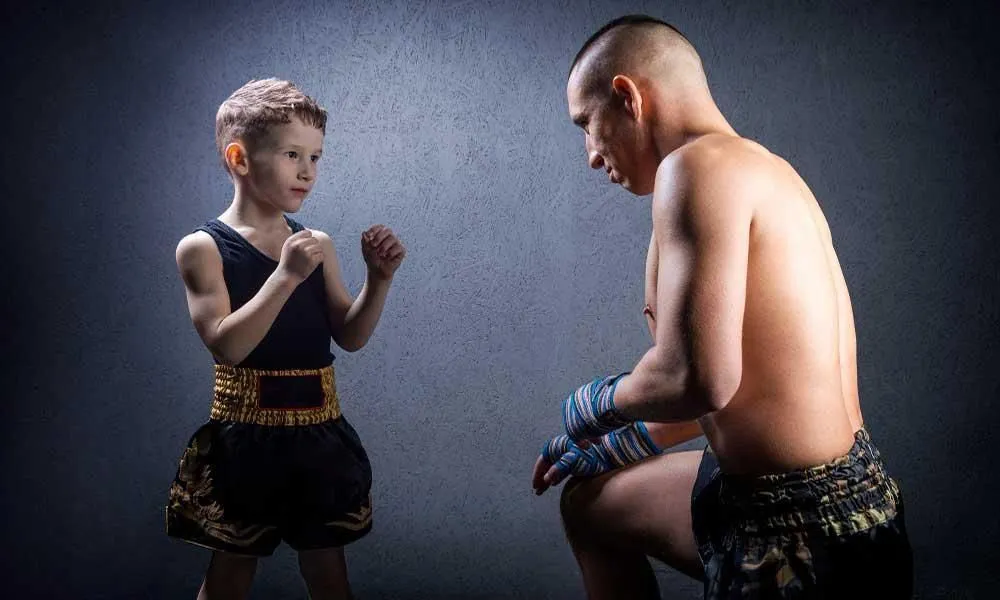 Loosely related to the Japanese martial arts named Judo, there are three different types of kickboxing prevalent in the world today. They are called Kickboxing, Muay Thai, and Savate- and they can all be practiced at home.
If you are starting with any of them, we recommend that you go for a virtual fitness expert instead of going ahead with any of the free classes on YouTube. Neither do these free online classes offer personalized guidance for specific physical and fitness requirements nor are they focused enough to deliver proper results.
As a beginner, you should observe the following rules to learn this ancient martial art:
1. Practice self-control
2. Choose an open space (like a garden) or a wide room in your home
3. You should set a goal for yourself (flexibility, weight loss, agility, or strength) and work on it
4. Start with a warmup and stretching
5. Go slow and steady
6. Practice on punching bags first
7. Do not try to overhit or overextend your legs to hit a target
8. Have a nutritious diet
9. Go for the advanced forms like front, side, back, and roundhouse kicks only after your trainer has asked you to
10. Do not forget to wear premium quality anti-sweat activewear for the training
11. Punch only when asked to in a training session
We offer some of the world's best online kickboxing classes for men and women of all age groups.
You may explore our wide range of online personal training classes for a variety of disciplines like strength training, weight loss, 6-pack abs, weight training, and suchlike. You can download the all-new MevoLife app to learn more about these workouts and training modules.
Get Started with the MevoLife App
With MevoLife, you would always have the freedom to choose your trainer and the time and place of your home-based training session. This is equally applicable for beginners who are looking for simple 15-minute kickboxing workout sessions and for those professionals who are looking to go ahead with the discipline.
Choose Kickboxing over a Sedentary Lifestyle Today!
We recommend getting in touch with a qualified fitness trainer and martial arts expert to get started with it. As you continue with them, you would find that your endurance has increased and you are now better equipped to deal with daily challenges.
Persisting with this aerobic workout at home would help you make amends to your lifestyle, especially if it is sedentary. Training oneself for martial combat is difficult but the best way to develop one's strength for self-development and self-defense. The best time to get started with it is now!