If looking in the mirror makes you feel resentful about your body shape, chances are it's time for you to get on some weight management spree. Here are some expert weight loss tips to help you do that.
Assuming you are a bit on the heavier side, what is it that you can do to get back in shape? You could count on some simple answers like brisk running and doing no-equipment exercises at home but despite all their goodness, they're only going to paint a partial picture.
To lose weight in a faster and natural way (especially at your home), you would need to look for an online fitness coach who could offer you a personalized diet and workout plan. Weight loss is a time taking process which requires a lot of hard work and sacrifices, along with some expert guidance.
How to Lose Weight Fast and Naturally?
Going for weight management is a conscious decision. Since obesity is a more popular issue than anorexia, it makes perfect sense to understand that staying away from junk food is just as important as eating healthy and nutritious food. This fact also underscores the discipline to eat abnormally in festivities and social get-togethers.
You can benefit the most from a personalized diet chart for weight loss. However, it must be noted that such a chart or list of exercises and foods cannot be made without a proper assessment of your daily routine. An expert would also assess your current BMI to offer more result-based suggestions.
Weight Loss Counselling tips: Expert ways to lose weight at home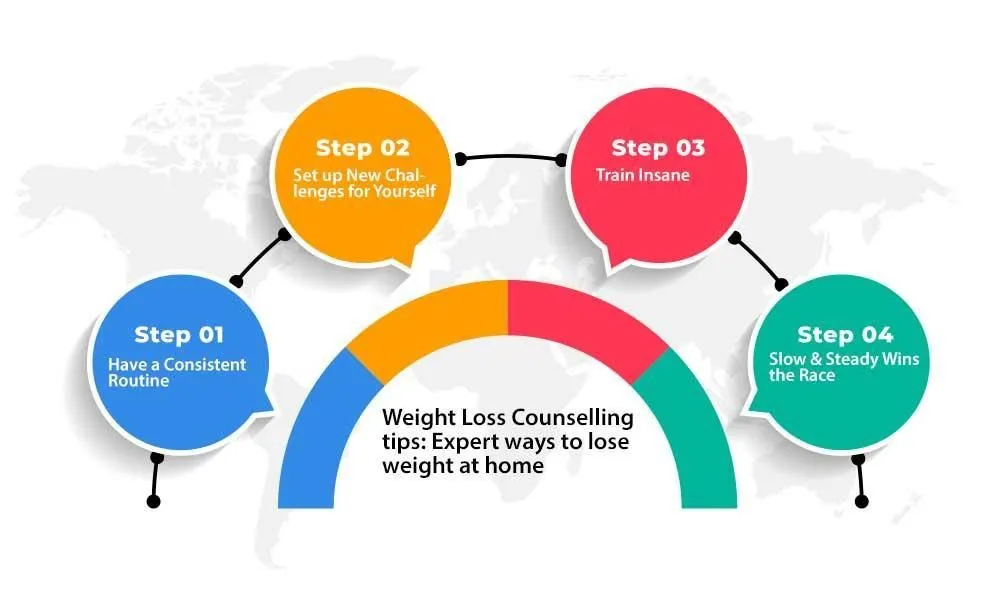 To lose weight and stay fit, you would need to eat and train properly. You should make several healthy changes to your current lifestyle so you could drive out the indulgences that are harming you. Our fitness and nutrition experts have come together to offer you some lesser-known tips and tricks that would help you a great deal in losing some extra flab off your belly.
Here are some easy-to-follow weight loss tips for you.
Have a Consistent Routine
Losing weight is not just about the physical transformation because the game runs high on emotions too. People tend to lose motivation when the results are not visible as per their expectations. What you need to understand is that everybody's body has a different pattern and some people take longer than others to shed off those pounds.
Staying consistent and honest about your efforts are all you need to see some quantifiable results. The key is not to go the undisciplined way or leave the fitness training altogether.
Also read: 4 Awesome Benefits of Fitness Challenges Workout | Mevolife
Set up New Challenges for Yourself
The process of weight loss is not that easy. The journey involves a lot of hard work to see the results. You should evaluate your daily/weekly routine and make sure that you are including exercises that are challenging for your body.
It is important to understand that if you are using 10-pound dumbbells for bicep curls, they would do you little good if you are "comfortable" with them. You should rather keep increasing the weights and changing the training routines to keep your body ready for more demanding workouts.
Train Insane
The next tip is to grab some weights and go for some strength training. Training with weights is a must even if you are engaging yourself in something as simple as walking. Once you engage yourself in weight lifting with smaller goals, lifting heavier weights and doing pull-ups will become easy.
Note: You can try Yoga or other meditation exercises to first calm your mind. This is an important step to take because your anxiety would only make things worse. You could train more than is required or you could lose hope after a few days, and this would put you back where you started!
Slow & Steady Wins the Race
You are eager to see the weight loss results because of which you might take too much too soon. A good workout routine would comprise at least four sessions per week. Remember not to get overwhelmed with the frequency, but rather look for effective ways that will help you in accomplishing your goals.
Some More Smart Ways to Stay Fit and Lose Weight Naturally
Equally applicable to men and women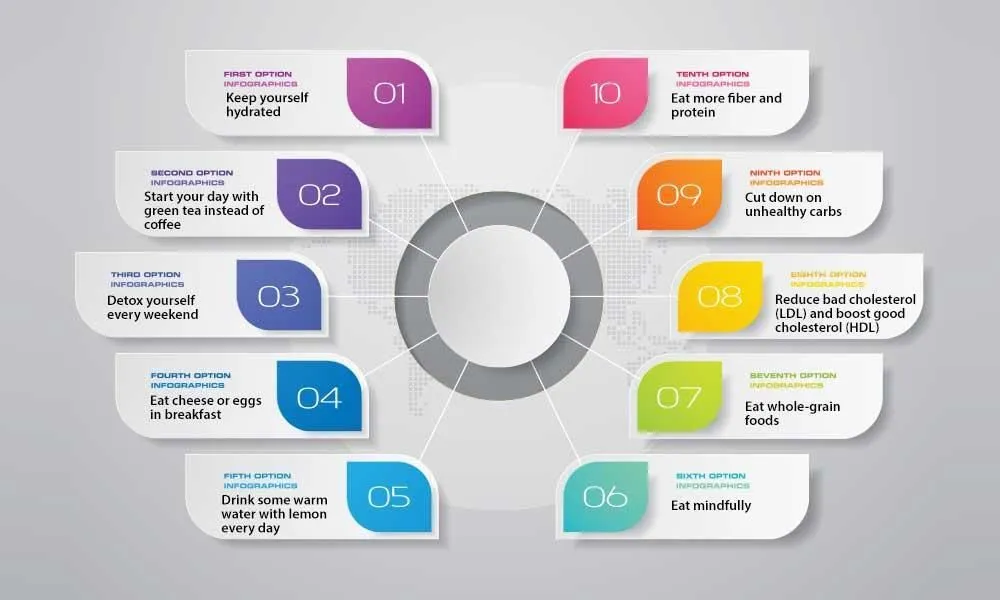 Besides the above list, you can also make a conscious effort to shed some extra flab by making some simple, yet smart changes to your daily lifestyle. You may note that these changes are easy to follow and can easily be added to your current diet plan or chart without any adjustments.
Here they are:
Keep yourself hydrated

Start your day with green tea instead of coffee

Detox yourself every weekend

Eat cheese or eggs in breakfast

Drink some warm water with lemon every day

Eat more fiber and protein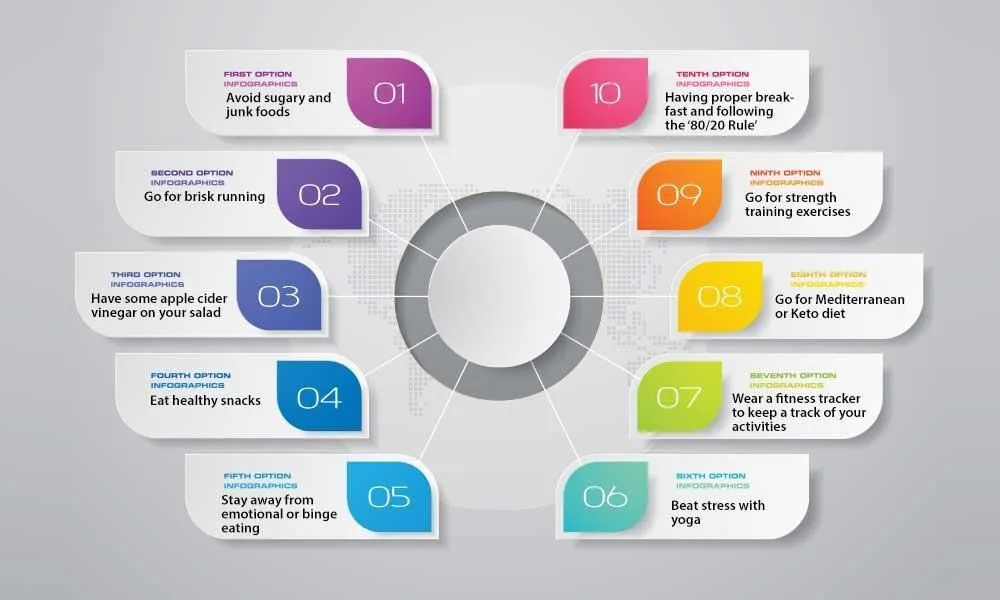 Cut down on unhealthy carbs

Reduce bad cholesterol (LDL) and boost good cholesterol (HDL)

Eat mindfully

Avoid sugary and junk foods

Go for brisk running

Have some apple cider vinegar on your salad

Eat healthy snacks

Stay away from emotional or binge eating

Beat stress with yoga

Wear a fitness tracker to keep a track of your activities

Go for Mediterranean or Keto diet

Go for strength training exercises

Having proper breakfast and following the '80/20 Rule'
We welcome you to follow these tips and tricks to derive maximum mileage with your fitness goals and diet plans. As you would perhaps know, consistency and discipline would help you make better progress with losing that extra bit of flab on your waist, belly, arms, and thighs much faster.
Staying away from unhealthy eating practices will boost the process.
How to lose weight in 7 days?
Theoretically, you may lose some weight in a week but the amount won't be appreciable or considerable enough. You should not try any of those ill-advised crash diet plans that promise you to lose weight in 7 days or so.
Secondly, persisting with such a crash diet would only make your body recoil itself faster and thus lead to faster weight gain. It is thus recommended that you work hard for your fitness and weight loss goals and not take any shortcuts.
How Consulting an Expert Personal Trainer Online Could Help You Achieve Better Fitness?
A fitness trainer or coach is someone who has walked the road you are starting up with. He is an expert who can help you learn the basics properly so you could work out better. He would also offer his insight about how you could do a certain exercise better and if there is a specialized diet plan that you could take. You would gain just as much even if you are a fitness professional yourself.
You do not always have to depend on your local gym for quality training sessions. MevoLife offers you one-click access to consult the world's best fitness experts through its app. You may install its app on your smartphone and choose a trainer as per your time and availability. These virtual sessions are always available on-demand, so no matter what time you log in, you would have someone to help you.
For more info on how to lose weight, download the free Mevo app for your Android phones and iPhones.