Why Do You Need a Healthy Detox to Cleanse?
We all live in times where unhealthy practices like overeating, alcohol abuse, and irregular sleep patterns are the norm. Add to it factors like pollution, stress, and irregular sleep patterns, and the reason for our poor metabolism rates and weaker digestion is understood.
If we fail to drive out these toxins from our digestive system, they start to accumulate and make matters worse for us- both physically and mentally. A healthy detoxification (or detox) process refers to safely and naturally removing these unwanted chemicals and substances from our bodies in a timely manner.
Why should you detox yourself?
A detoxification (or detox) process is important for several reasons:
1. Eliminate toxins from the body
2. Boost metabolism
3. Improves our health and fitness
4. Makes us more confident
5. Improves sleep cycle
6. Improves physical functioning
7. Balances pH of the body
8. Higher immunity
9. Lower fat accumulation
10. Helps in weight loss
11. Less risk of heart ailments
12. Improves BP and blood sugar levels
13. Resolves headache and body pain
14. Makes skin and hair shinier
15. Helps you recharge your emotions
16. Slows premature aging
To get the process going, it is important to use natural and herbal means to cleanse one's body. Using chemicals to do the job would only cause more issues.
What Is a Healthy Detox Program?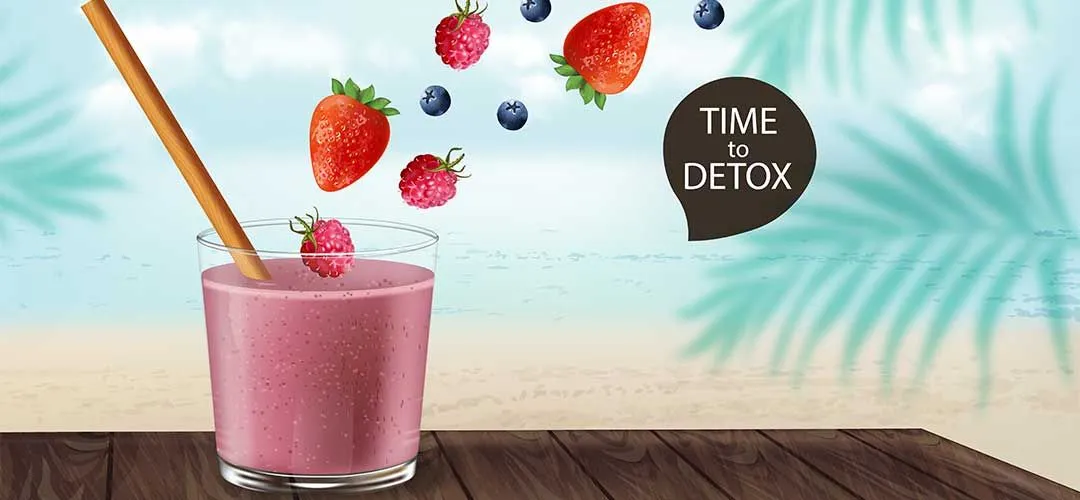 The human body is especially amazing in the way that it has an inbuilt and effective cleansing system that works 24x7. This natural system comprises our kidneys and liver. If they function properly, we don't need to worry about any other type of cleansing or detox program.
Consuming vegetable juices is a smart way to help these organs rejuvenate themselves faster and deliver better results. We shall tell you more about the best vegetables that you could use to get the job done and stay healthy.
Expert's tip: 6 Step Daily Detox Plan!
Caution: Failure to cleanse your liver and other digestive organs may lead you to illnesses like jaundice and liver cirrhosis. They are extremely painful and may take months to get cured.
Detox juice cleanse process
We recommend that you start cleansing your digestive system and powering up your metabolic system with seasonal fruit and vegetable juices. Not only are these juices easy to make at home, but they also give you most of the goodness of nature.
Even if you do not prefer eating a lot of these green vegetables, we recommend that you still make them a part of your daily diet by taking them every day. This will increase your liver's capacity to absorb nutrients from your food, boost your immunity, drive out the toxins, and clean up the waste materials sticking to your intestines.
What Are Vegetable Juices?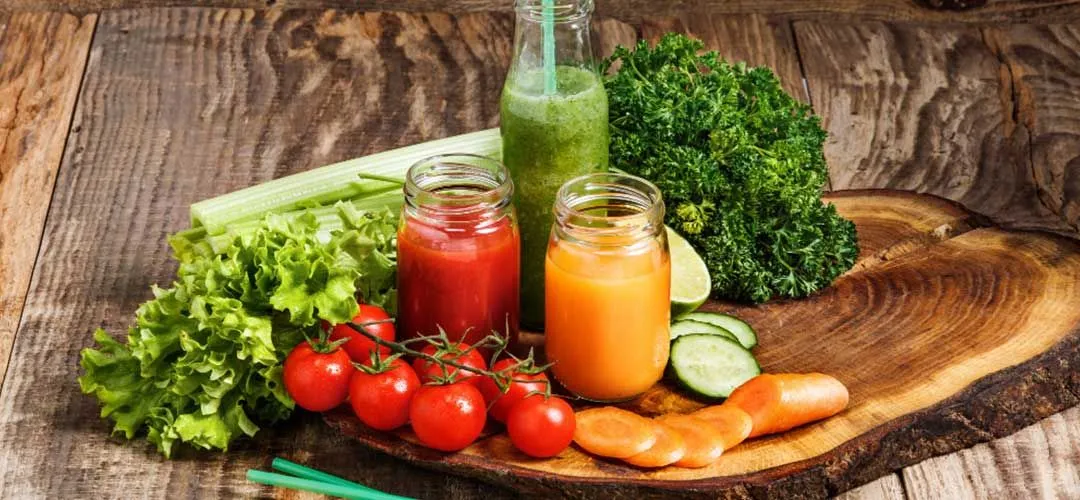 Vegetable juice is a healthy drink made by blending one or more vegetables. They are usually insipid and tasteless but pack in a lot of proteins and vitamins. You can improve their taste by adding various types of fruit juices and salt etc. to them or by having them with some healthy salty snacks.
It is usually best to drink them first thing in the morning. Just like , they too help your digestive system get rid of toxins when taken regularly. These juices are organic, fresh, easy to digest, and can be taken in most illnesses.
Some healthy vegetable juices are:
1. Carrot and ginger juice.
2. Dill juice.
3. Gourd juice
4. Gourd and beetroot juice
5. Bitter gourd juice
6. Cabbage juice
7. Spinach juice
8. Broccoli juice
9. Carrots juice
10. Kale juice
11. Parsley juice
12. Beetroot juice
13. Apple, ginger, beetroot, and carrot juice.
14. Ginger, cucumber, and apple juice.
15. Cabbage juice
16. Mix fruit and vegetable juice
If you are looking for some green vegetables for a juicy detox process, we recommend that you choose spinach, broccoli, and cabbage to get maximum benefits. Adding these greens to your diet plan will help your digestive system cleanse itself faster because such foods are rich in fiber.
The best detox juices for weight loss
Some of the best vegetable juices are kale, beetroot, carrots, lemons, cucumber, spinach, wheatgrass, tomatoes, and ginger. Some cereals and parsley are good options too because they are available relatively fresh and in an organic form. You can have their mix in the morning and evening to see a visible difference in as little as a few days.
Drinking them regularly can help you strengthen your digestive system by driving out the toxins and other unwanted substances in your body. We also recommend that you also drink six liters of water daily to keep your digestive system and blood circulation in proper shape.
How to eat more vegetables every day?
Drinking vegetable juices can help you increase your intake of veggies, along with the vitamins and minerals that accompany them. This is of special significance for those who do not eat enough leafy greens in their regular diet). Making some healthy changes to their dietary habits can affect the detox process and its efficiency.
Why is fiber important?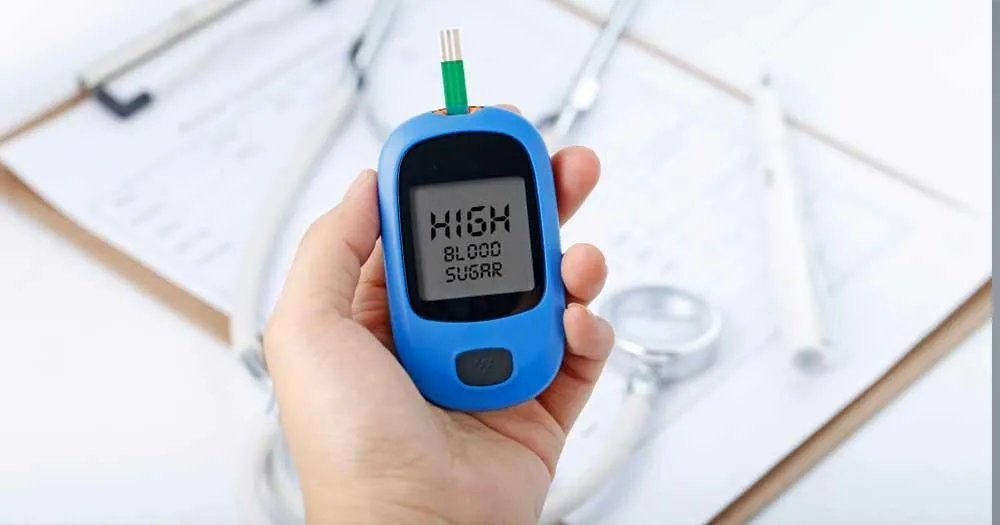 When you make a juice, it also removes most of the fiber. It is an important ingredient for weight loss and has many other health benefits. High-fiber foods help you control the levels of blood sugar and blood pressure in your body.
Soluble fiber foods slow down the rate of food digestion to control the rate of calorie absorption in the bloodstream. This has a direct effect on your hunger- so if you eat more fiber, you would feel full for a longer period. It would also clean your digestive system faster to relieve constipation. This is especially true for people who are suffering from gluten intolerance.
That said, fresh vegetable juices that only have sugar but no fiber might cause a spike in blood sugar levels in the human body. This can lead to many negative effects such as insulin imbalance, skin outbreaks (in people who have acne-prone skin), and many more. You can top vegetable juice with some salt or fruit juice for the best results.
Disadvantages of drinking vegetable juices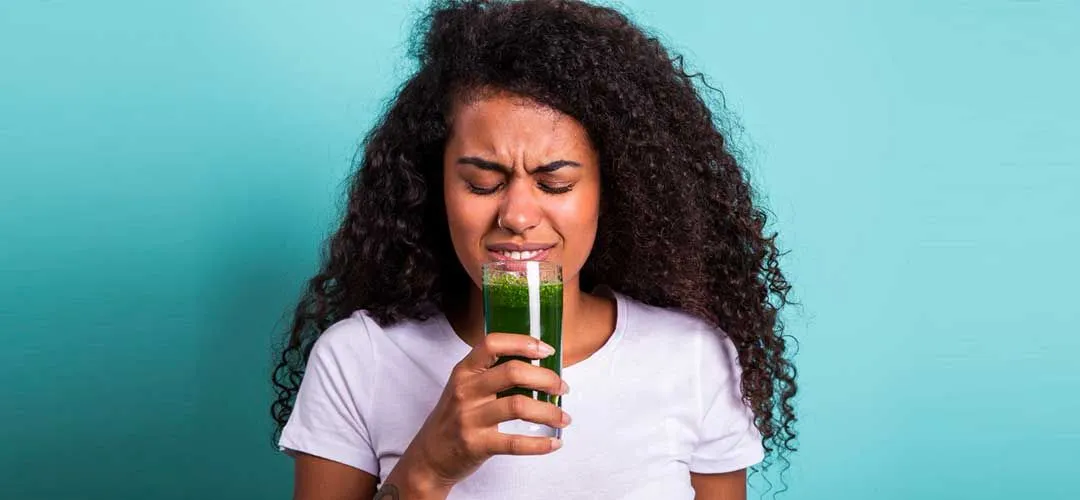 Healthy as they are, vegetable detox juices can also cause some long-term health risks when taken in an unmoderated amount. Here are some of them:
1. Drinking juices cannot beat the effect of eating vegetables in whole
2. Some juices may be high in sugar or sodium (salt) content
3. Some juices may contain calcium oxalate content, this can form kidney stones
4. Drinking too much vegetable juices cause dehydration
Tips and Tricks
If you have your heart set on drinking vegetable juices, here are some healthy tips for you:
Add some milk to the juice to slow down the release of sugar

Drink veggie juice twice a week to avoid any lasting harmful effects

Drink it 20 min before or 2 hours after meals.

A daily intake of 38 gms is recommended for men and 25 gms for women.
A Healthy Detox Cleanse Starts with Professional Guidance
You may note that consuming too much of these juices can make you feel full for longer and this may not be a good thing if you are on medications. Consuming juice in excess can turn you away from eating vegetables in cooked form and also from eating fruits. This may cause a loss of nutrients and can hurt your health.
In this scenario, we recommend that you go ahead with a personalized diet plan as made by a nutritionist or a healthcare specialist. These are qualified experts who can check your medical history (medications and allergies) and advise you on the exact type of vegetable or fruit juices you should go ahead with to cleanse or detoxify your digestive system.