Soups are usually a healthy option to have one's fill and to bring oneself closer to the goodness of Mother Nature. If you are on a fitness diet or are looking for weight some smarter ways to lose weight faster, we recommend you try these soups this week and see the difference.
Also read: How Many Calories Should You Eat Daily To Lose Weight?
Most fitness experts ask weight-watchers to have some soups to stay in shape without going in for a restrictive diet. It is so because these health drinks are hot and full of nutrients (like vitamins, proteins, and minerals), and can be quickly made using seasonal fruits and vegetables. Besides, they are mostly broth and have a lower calorie count.
Here are some simple choices of healthy soups for both vegetarians and non-vegetarians to take their pick.
Soothing Ginger Soup
This simple veg soup has noodles to fill you up, tofu for protein, and lots of ginger for your health. Ginger reduces muscular pain and soreness, has antimicrobial properties to prevent illness, and can raise your metabolism rate. The noodles in this recipe are made from sweet potatoes so you could enjoy some complex carbs that won't spike your blood sugar.
So, let's get started with three servings of this tasty soup now:
Ingredients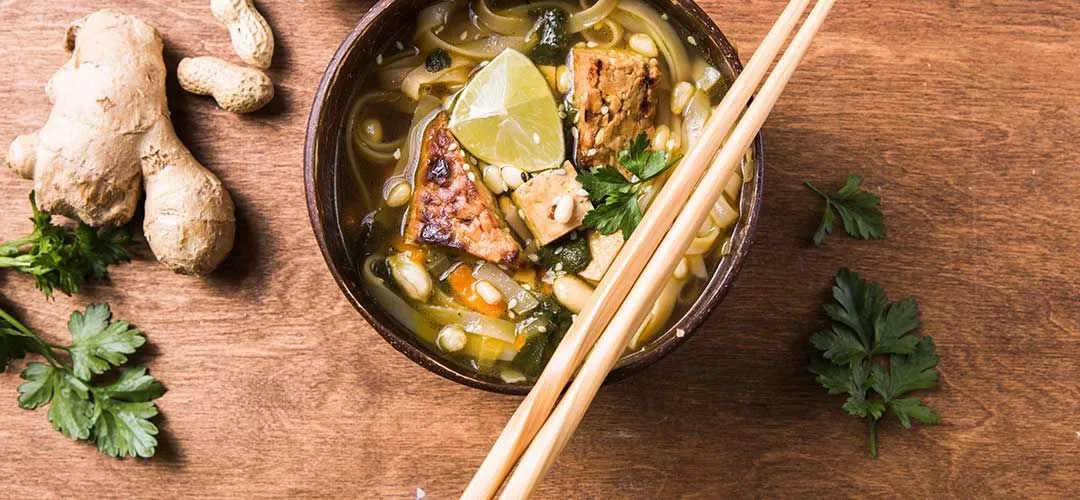 1 cup of vegetable broth

2 cups of water

A paste of cloves and garlic

½ inch ginger (smashed into a paste)

1 container silken tofu

2 cups Korean glass noodles (or other clear Asian noodles)

¼ cup lemon juice

¼ cup lemon juice
Instructions
Bring the broth and water to a boil.

Add the ginger, garlic, and optional oil and simmer for 5 minutes

Add glass noodles simmer for 10 minutes

Add tofu and lemon, simmer for 2 more minutes
Next up is the ever so tasty soup of potato and broccoli. It is one of the best soups for maintaining robust cardiovascular health and having a stronger immune system.
Also read: Are you a fitness expert? If yes, here's an article that you'd like.
Scrumptious Potato and Broccoli Soup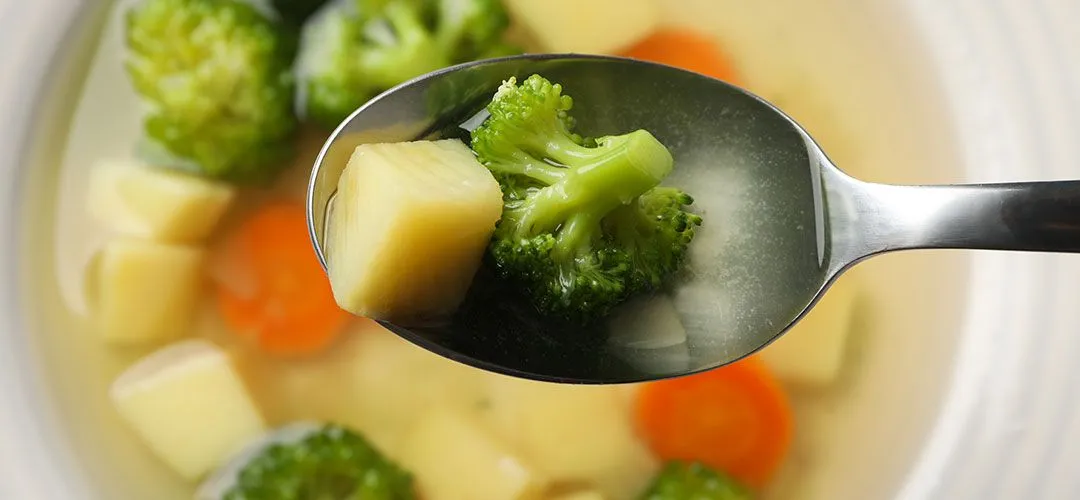 Soups are a great way to get your greens during the winter, and what could be better than starting the list with broccoli? This green vegetable is known for its enzymes that strengthen immunity and prevent cancer and cardiovascular diseases. The potatoes in the soup give you the creamy texture you crave, minus the added calories.
Ingredients
2 cups vegetable broth

2 tablespoons olive oil

1 chopped onion

3 garlic cloves, chopped

2 medium-sized potatoes, cubed

4 cups broccoli

1 tsp oregano

Some salt and pepper
Instructions
Pre-heat a large soup pot on medium for 3 minutes and add some oil to it.

Add garlic and onions and cook until onions turn clear.

Add vegetable broth, broccoli, and potatoes. Bring to a boil in the next 15 minutes.

Put the whole soup in a blender and blend until it becomes smooth.

Return to the original pot and let it simmer for 5 more minutes. Add oregano, salt, and pepper.

Add oregano, salt, and pepper.

Remove from heat and let it cool.

Serve garnished.
Next up we take the sweet potato soup. It is known for its high glucose and fructose content, and can energize you real fast, especially during the rainy or winter seasons!
Sweet & Savory Sweet Potato Soup
This soup is the perfect dish to keep you warm during those cold winter months. The sweet potatoes will satisfy your sweet tooth without spiking your blood sugar. The ginger and curry spices stimulate your immune system, helping you fight off colds. And this low-calorie soup will help keep you full while shedding pounds.
Did you read: How to Annihilate the Most Common Winter Fitness Excuses?
Ingredients
2 tablespoons olive oil

2 tablespoons honey

8 cups vegetable broth

2 medium white onions, chopped

2 sweet potatoes, peeled and cubed

1 pound of carrots, peeled and chopped

1 tablespoon curry powder
Instructions
Warm a large pot on medium heat for 3 minutes.

Add some oil, and then some onions and ginger

Cook until onions are clear and fragrant.

Add the vegetable broth, sweet potatoes, and carrots, bring to a boil.

Let it simmer for 20 minutes.

Use an immersion blender to blend the soup, or transfer the soup to a blender in batches and blend it.

Return to the pot and let it simmer for 4 more minutes.

Allow it to cool.

Serve garnished with black pepper.
Do you prefer something tangy and acrid? If so, we suggest you get ready for the lime lentil soup that offers the best of both worlds for a highly energized workout that could be up next!
Lime Lentil Soup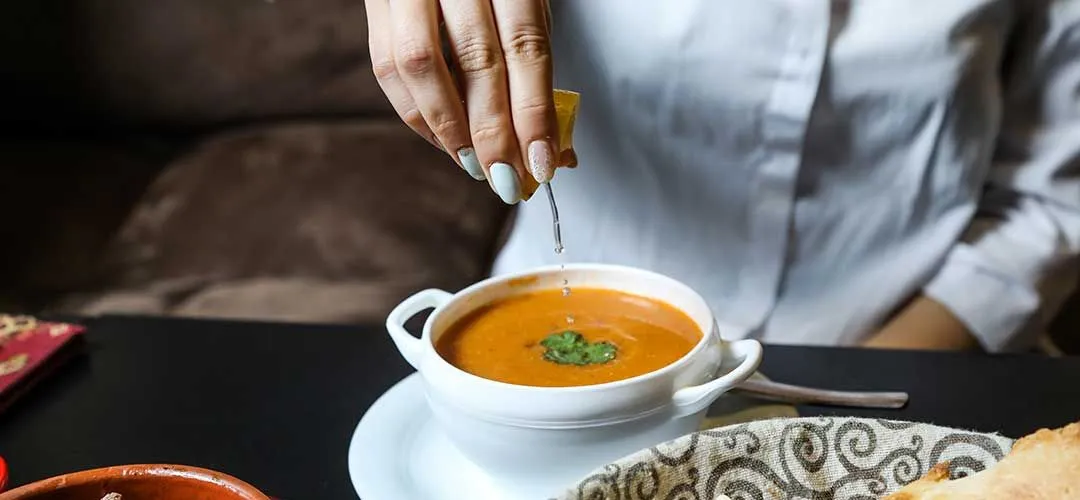 As per a study conducted by Obesity Research Centre in 2005, people who ate two servings of low-energy-dense soups per day experienced 50 percent more weight loss than those who took in the same number of calories in a high-energy-dense snack.
Choosing the right type of soup is very beneficial for weight loss and to make it easier we have got 1 delectable soup recipe for you today, the 'Lime Lentil Soup.' We are offering the recipe for this healthy vegetable soup below.
Ingredients
2 tsp vegetable oil

1 medium onion, chopped finely

2 cloves garlic, crushed

2 cm piece fresh ginger, grated

1 tsp cumin seeds

1 cup red lentils

2 cups vegetable stock

2 1/2 cups water

400g can diced tomatoes

1 tsp finely grated lime rind

1/4 cup lime juice

1/3 cup fresh flat-leaf parsley, chopped
We have presented four delicious and high-energy soups that fall can be taken by vegetarians and non-vegetarians as well. It's time we switch to the other side of the window and consider the non-vegetarians as well.
Healthy Mexican Ketogenic Chicken Crockpot Soup Recipe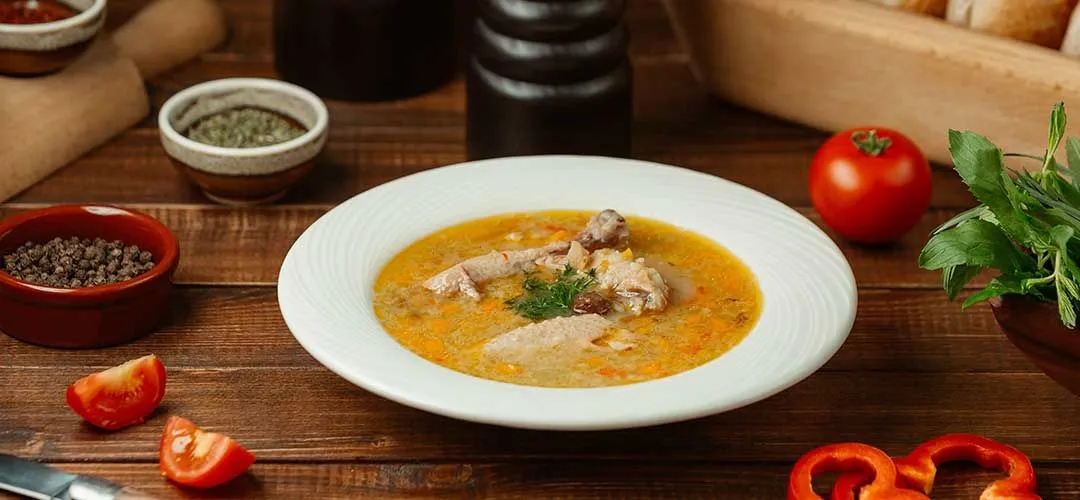 Monday evenings are usually about a lot of hard work and boredom, and people often find it quite a task with lowered energy levels. If you too are going to a nearby gym but are not feeling energized, here's something that you can cook up in just a few minutes to get your protein levels soaring.
PS: Today's Mantra for Online Wellness: If It Doesn't Look Good on the Inside, It Isn't Good for You!
This soup is called Healthy Mexican Ketogenic Chicken Crockpot Soup Recipe and it is a powerhouse of energy. It would keep you physically active and mentally sharp so you could be at your very during the workouts. Some doctors and fitness professionals also prescribe it to their patients so they may beat stress and anxiety.
Ingredients
1 1/2 pounds chicken pieces boneless/skinless

15.5 oz. chunky salsa

15 oz. chicken broth

8 oz. Monterey or Pepper Jack cheese cubed small or shredded
Method
Place chicken pieces at the bottom of a 6-quart crockpot.

Add remaining ingredients.

Cook on high for 3 to 4 hours.

Remove chicken pieces and shred chicken. Return to crock.

Serve hot.
Nutritional Info
Serves 6
Nutritional value per serve: Calories 400kcal, Fat 22.5g, Carbs 7.5g, Protein 37g
Crockpot cooking gives you a lot of extra time in hand to do other stuff rather than just standing in the kitchen and munching on titbits while the food is made. It lets you free and allows you to have some quality time with everyone at home. We recommend you try this healthy vegetarian soup today.
Switch to These Five Soups for a Slimmer Body, Starting Today!
These five recipes of healthy soup vegetarian and chicken soups can fill you up without unnecessary calories. Intended mostly for weight loss, these delicious broths will satisfy your cravings without hurting your weight loss diet. We recommend you take out some time to cook one of these delicacies for yourself today and do something creative with your regular schedule.