Going to a gym and wondering about what you should have eaten before or after working out? You are not alone. Thousands of fitness professionals around the world have this question (read: dilemma) about the best pre-workout (and post-workout) foods that they can have to gain muscles and to start their workouts with an advantage.
So we got around our fitness experts to have an answer to these popular questions. They told us that one should rely on the effects of taking a personalized and fitness-centric diet to match their workout schedules. The results that one would gain would be directly proportional to one's eating habits and lifestyle. Maintaining a proper sleep cycle and staying away from indulgences would be advisable too.
What to Eat before and after Workout?
You are not the only one wondering about your next move.
The diet you choose for your fitness and workouts is as important as your schedule, and it thus makes perfect sense to eat nutritious foods that contribute to your health. It is advisable to go for dry fruits, milk, protein shakes, and calcium-rich foods to build strength.
Here's why you should start and finish your fitness sessions by eating some high-energy and protein-filled foods:
1. Proteins reduce muscular wear and tear
2. Carbs provide strength and endurance
3. Sugar provides faster energy
4. Salt boosts blood pressure
5. Energy foods and drinks keep you energized
6. Helps in weight loss and muscle building
These points make sense given that the energy is stored in our body in the form of glycogens. When we do not eat properly before an early morning workout, it surely makes the body use stored fat. This may sound like a good idea to burn fat faster but it isn't. This malpractice can make you feel nausea, weakness, headache, and stomach pain because you are using your depleted energy reserves.
This further spirals into eating more food and drinking more energy drinks during or after the fitness session. It would soon turn into a serious health risk called the weight loss plateau in which you would simply not lose weight, no matter how hard you work out or how disciplined a diet you may take.
Best Pre-Workout Foods: What to Eat before a Morning Workout?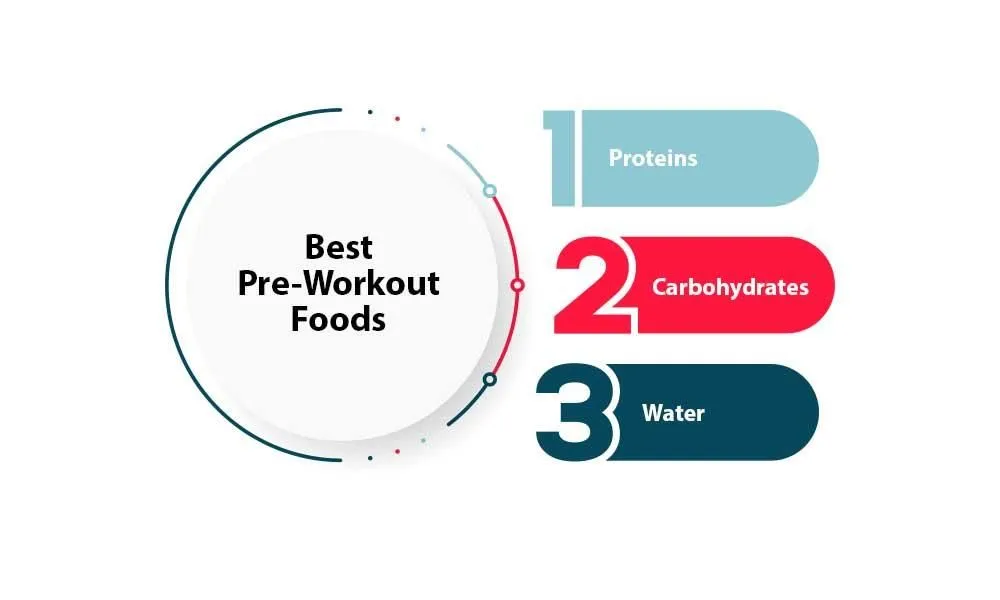 We called in our specialist dietician to help us make a list of all the healthy foods that you may take before your workout sessions, especially if you have a morning schedule. She helped us zero in on a list of the best vegan fitness meals that you can eat before working out, and we shall append it with one for after the workouts.
Here are some of the best pre-workout options you should include in your fitness schedule:
Proteins
Proteins are one of the most significant building blocks of body tissues and double up as a fuel source. Taking them the first thing early morning before exercising helps us burn the excess fat faster and naturally.
A good way to start will be to start with a protein milkshake mixed with a few bananas in it. Full Cream Milk, Cheese, and Eggs also come recommended along with almonds and peanuts.
Suggested article: Easy Ways to Sneak Protein Into Every Meal and Drink
Carbohydrates
Carbohydrates break down quickly in our digestive system to give us energy in real-time. These energy molecules break down into fructose and glucose, thus releasing instant energy in our bloodstream. You can eat fruits, grains, and fiber as the best vegan fitness meals.
However, it is just as easy to fall into the trap of 'Bad Carbohydrates' though. The list includes cola drinks, cakes, potatoes, and pasta- and some of them could be harmful if consumed over long periods.
Water
While it is not exactly a pre-workout "food", the importance of water can't be overlooked.
A human body contains more than 65% water and it is important to keep it replenished with water at all times. One should consume about 4 to 6 litres every day, and it is important to drink one to two glasses of water for around 15 minutes before starting workouts.
You would automatically feel an urge to keep drinking water as you continue to exercise, and drinking water would help you stay in the game. Working out, taking short breaks, and drinking appropriate amounts of water are some of the best ways you could observe to stay healthy and fit.
Importance of Fitness Trackers
It is also important to keep a track of the direction of your fitness and health in a gym. We thus recommend that you keep a check on your heart rate, blood pressure, blood oxygen content, and other such health-based variables too.
One smart way of doing so is to use a branded fitness activity tracker. Available for men and women, they are the go-to devices to track your fitness quotient along with a positive fashion statement.
Note: Here's how you can choose the best fitness band for yourself.
Best Post-Workout Foods: What to Eat after a Workout to Lose Weight?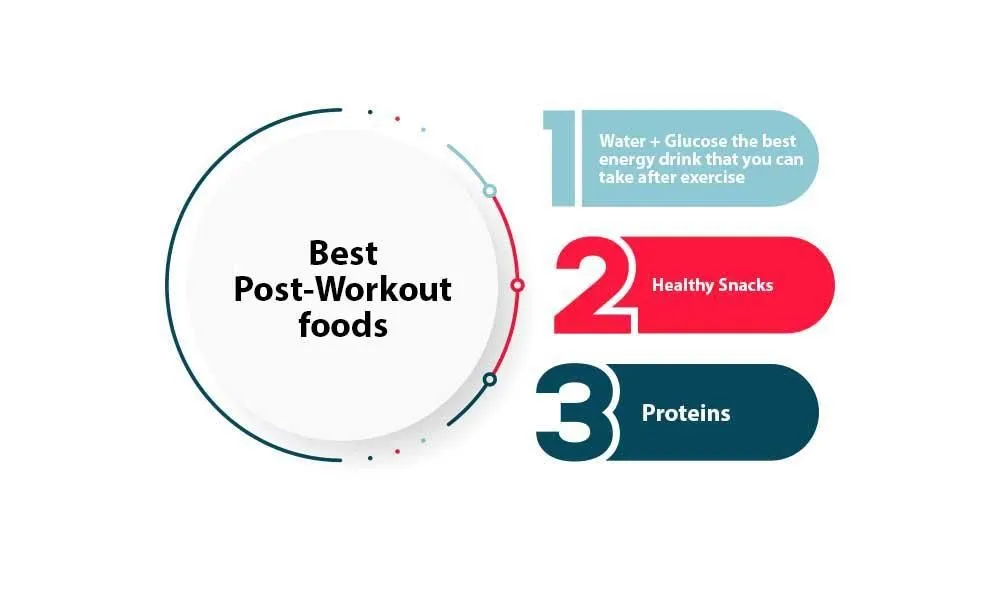 You may have eaten something for your workouts and you are done with the schedule too. It is important that you back it up with a matching list of the best post-workout foods too so your energy consumption is in line with your energy expenditures.
Here are some of the best muscles building foods that you could have to build muscles and lose weight faster:
Water + Glucose (the best energy drink that you can take after exercise)
You should have half a litre of water mixed with a few spoons of glucose during every workout. This would replenish your blood oxygen levels to provide instant energy. This is one of the best post-workout "meals" to start with. You would also feel a lot less heat after drinking some water.
'Healthy Snacks'
It is extremely important to consume something appropriate within 15-30 minutes of working out. This would help you replenish the lost energy quickly and would help your body tissues heal much faster. The list includes cheese, nuts, dry fruits, boiled eggs, toast, whole wheat bread, fruit juices (homemade), oats, and beans.
They are quick to make and we suggest you either prepare them before you go to the gym or better still, call up someone at your place to make them for you as you are on your way back to them. Once you are there, you may take a minute to relax and then start taking things up!
Proteins
We all need proteins to replenish our energy levels and strengthen our body tissues. Consuming protein-rich foods as mentioned above- eggs, almonds, or something like chicken breast, yogurt, milk, tuna fish, lentils, sprouted beans, whole wheat bread, etc. comes highly recommended.
Even if nothing else, you can go with mildly roasted peanuts. They are an exceptionally strong source of protein, good fats, fibre, and minerals like potassium, magnesium, and vitamin B. Salted peanuts, cashews, and nuts together top the list of the best post-workout foods that you can eat anytime.
Did you know? If you are looking to know what you can eat after a workout to lose weight, you should rather consult an online fitness coach for a personalized 7-day diet plan for weight loss.
Foods to avoid when building muscles
There is a subtle difference between taking a diet for weight gain and weight loss. A fitness trainer may recommend a similar set of exercises and diets but they are still different in terms of the results that may be achieved.
Here are some of the worst foods that cause faster weight gain and we recommend that you should avoid them:
1. High-fat foods
2. Cola drinks
3. Fast foods
4. Deep-fried foods
5. Alcohol
6. Fiber-rich foods
7. Caffeine
8. Bagels, Donuts, and Muffins
9. Processed flour
10. Artificial sweeteners
11. Soda
12. Butter
As you would understand, it is just as important to eat a balanced and nutritious diet as it is to stay away from the foods that may cause you to gain weight. We recommend that you make a note of this list and stay away from indulgences. Maintaining correct sleep patterns is just as important.
Consult a Fitness Expert Online for a Personalized Diet Plan
The situation would not change much for fitness professionals, except for being intensified by a mile. You should consult an expert online and go for an on-demand, personalized diet recommendation for your fitness issues. This would help you get better results.
We'd also like to know your experiences with our dietary recommendations and our fitness gadgets. Please feel free to let us know in the space below, and on our social media channels as well.