Weight Gain during Vacations
Festive season and indulgent eating practices are usually synonymous. People find it too easy to drop their guard and grab indulgent foods- and this usually sabotages their disciplined eating practices. Obese people and emotional eaters should specifically be cautious about this.
We all love vacations, even the workaholic types. We prefer to switch off ourselves from the schedules and immerse ourselves in the festivities that lie abound. There is a carefree atmosphere with a lot of music, away from the bustling traffic, and indeed a lot of fun. Delicious foods are just as much there too.
And then there is indulgence.
Almost just as obvious is the rapid surge in one's weight. One may find one's arms flabbier and thighs fatter, and the belly too going horizontally in a few weeks. All at the cost of carefully created and meticulously done workout plans. You might have been working on melting that body flab for several months in a row and it has all come to this. Vacation Weight Gain is a cruel joke.
How to Maintain Weight during Holidays?
Weight gain comes as a standard accessory during vacations (or the festive season) but it all depends on whether you install it as an add-on in your body. You can always resist and refuse to become worse. One way to beat this impediment is not to overstep and negate the habit of eating in excess at seemingly odd hours.
Even though it won't be always possible to say no to anything being served- sometimes it may be due to indulgence and other times it could be due to courtesy. It serves well to remember that if the discipline of working out and eating nutritious foods is gone, the situation may hit rock-bottom rather quickly.
How do you maintain weight? 10 Proven Tips for Vacation Weight Loss Tips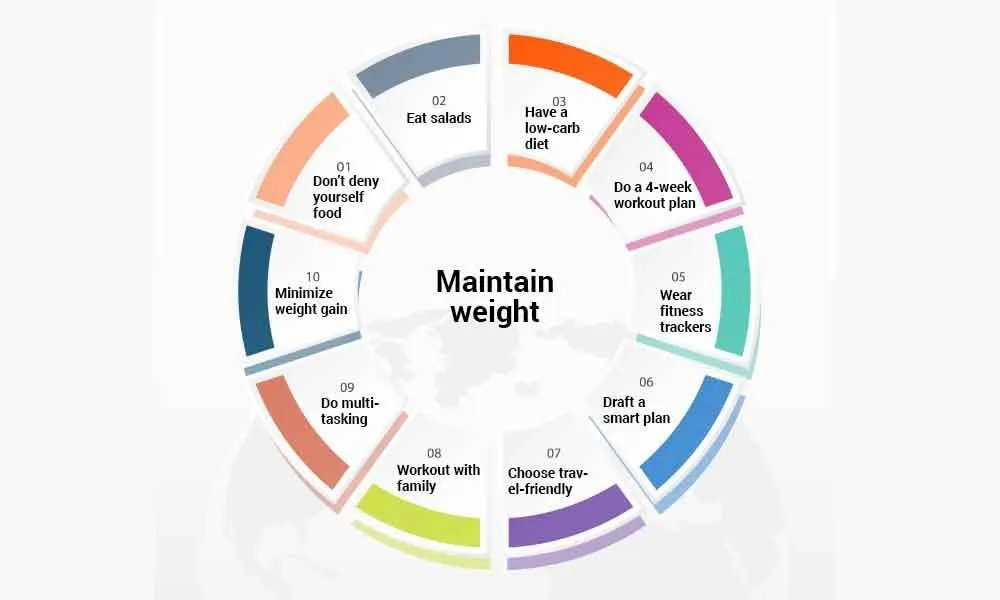 So we got around our wellness experts last week to discuss the issue at length. They told us about five smart rules for weight loss that you could beat the cravings and indulgences and societal pressures, and come out just about fine. We recommend you try them out at your next weekend binge!
Here they are:
Don't deny yourself food
Just because you want to lose weight doesn't mean that you have to live without the foods you adore the most. You could always have delights like dessert, alcohol, fried foods, etc. - you just have to exercise portion control and eat them in small amounts.
Remember, when you forcefully deny yourself your favorite foods, you only end up eating more of them. This has the opposite effect on your disciplined eating habits because now you are prone to eat them more.
Caution: If you are a fitness professional, you might end up overeating more than ever and lead yourself to a weight loss plateau.
Eat salads
Salads indeed help in weight loss but not everyone loves eating them. The dissatisfied feeling after eating them could make you head straight for the nearest fast-food joint. The salad toppings too could just as easily add up. When a bowl of greens is covered in a creamy dressing, candied walnuts, cheese, cranberries, and avocado, a seemingly healthy salad can even give a burger a run for its money.
You should enjoy the foods you're eating to stick with a healthy meal plan. If you don't like the bowl of raw veggies, you can choose other low-calorie meals that incorporate veggies such as sandwiches, broth-based soups, grilled veggies, and whole-grain salads, etc.
Did you know? Salads would help you build muscles faster and train yourself for strength in a better way. To counter vacation weight gain, you should also take a protein-based diet to melt fat faster and tone yourself better. Again, discipline and self-restraint would hold the key to your success.
Have a low-carb diet
Not all carbs are high in calories. Refined carbs like white flour, rice, and sugar are the ones to limit while complex carbs like quinoa, oats, whole-wheat pasta, whole-grain bread, and brown rice are the ones to go for.
Do a 4-week workout plan
If you do not stay disciplined, you would skip the workouts. You would also skip benefits like better heart health, stress relief, and better sleep. A fitness expert would also advise you to go for a four-week workout plan or routine so you could maintain weight during holidays and remain fit.
Tip: Psychology states that we can form a habit if we keep practicing it for 21 days. In this light, it only seems natural that staying with a restrictive diet for 4 weeks can help you set your indulgences right.
Here is a sample 4-week workout routine that you can follow at your home to lose weight:
| | | | | | | | |
| --- | --- | --- | --- | --- | --- | --- | --- |
| Sl. No. | Days | Part of Body | Exercise 1 | Exercise 2 | Exercise 3 | Exercise 4 | Exercise 5 |
| 1 | Monday | Chest and Triceps | Bench Press | Triceps Dips | Incline Dumbbell Press | Triceps Extension | |
| 2 | Wednesday | Back and Biceps | Pull Up | Bent-Over Row | Chin Up | Standing Biceps Curl | Seated Incline Curl |
| 3 | Friday | Legs and Abs | Back Squat | Good Morning | Glute Bridge | Incline Dumbbell Press | |
| 4 | Saturday | Back and Shoulder | Overhead Press | Rack Pull | Seated Dumbbell Press | Lateral Raise | |
Suggested read: Weight-Loss Rules You Will Love To Follow!
Wear fitness trackers
Portion Control plays an important role in weight loss but you don't have to be rigid about measuring everything. There are tons of foods you can eat as much as you want and not measure a single bite like salad greens, peppers, celery, and cucumbers. You may also go for cumin water to detoxify yourself.
Using a good-quality fitness tracker would also help because it would keep you in sync with your health vitals all the time. It would keep you posted on your blood pressure levels, blood sugar levels, and pulse rate along with a few other crucial health parameters.
If your daily diet seems too strict, going for healthy breakfasts and snacks instead of oily foods and sweets would help. You may also include healthy foods like chia seeds that you can munch on to satiate your hunger without putting on any flab.
Draft a smart plan
It is very important to include a non-negotiable fitness routine in your holidays. If you create a plan, you can limit wasting the time on irrelevant activities and rather use it for exercising. Be sure to write down all the exercises along with the time that you are going to devote to this.
Just in case it is a little difficult to make time during the day, you may get it done in the morning itself before everyone else wakes up. Here's a pro tip, you may set an alarm for 30 minutes before everyone wakes up.
Choose travel-friendly workouts
Even if your schedule for the holidays is full of trips, there are still plenty of ways to get your sweat even. You may go for indoor workouts and can squeeze in a session with exercise apps. The same can be pepped up with a video-conferencing-based session with a virtual fitness expert available on-demand.
Should you prefer gyms, you can make your trip an opportunity to check out a new fitness center. You can also opt for simple body-weight exercise options for a routine you can easily do in your hotel or guest room!
Workout with family
Quality time does not mean lying on the couch and eating all day and night long. These holidays involve family and you can exercise with them in a fun way. Walk around the area to check out the lightning decorations, have a theme-based dance party, or play a football game. Forget the traditional ways to show love with food and power it with something more challenging.
Do multi-tasking
Rather than going for one task at a time, you should aim to multitask. For example, you may try to squeeze in some extra steps by including window shopping in your routine. While making a family lunch at home, you may hit your treadmill for a short session while you wait for it to cook.
Remember that something is better than nothing. Doing a few jumping jacks or a few sets of squats regularly too would make a positive difference to your fitness levels. However, it would be best to stay away from these 5 common mistakes in the gym.
Minimize weight gain
If you can't lose weight, you may always (and at least) try to maintain it. Even if you are too busy to work out, you can set some simple and easy targets for yourself like walking for an hour or so every day. They would keep you excited about your health goals and would help you get in shape faster.
Caution: Don't starve yourself or opt for a crash diet afterward!
As mentioned above, there is perhaps no middle ground when it comes to observing a strict diet. Most people think that they should starve themselves the next day to make up for the excess calories that they had after a night of binge and booze. This is the worst possible mistake that you could make.
The law of averages doesn't work in the case of fitness and weight control. If you want to maintain your weight, you should regularly eat and work out in direct proportion. By keeping yourself hungry for extended durations, you are making your body prone to eat more when you allow it and this leads to faster weight gain.
Tip: Struggling with a hangover from your weekend binge? Here's how to set your digestive system for detox right now!
Consult a Wellness Expert to Know if You Have Binge Eating Disorder!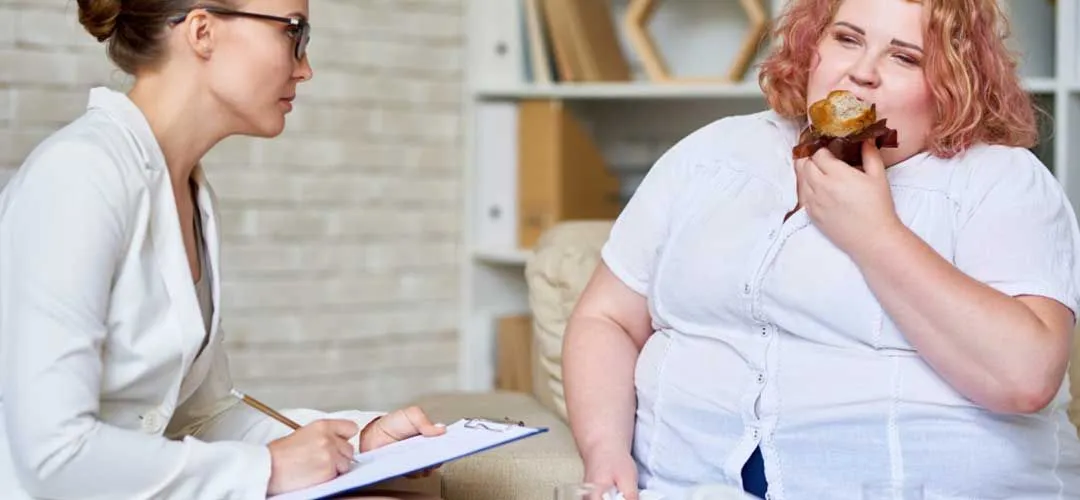 We recommend checking with a qualified wellness expert to know if you are suffering from any compulsive habits like Binge Eating Disorder or any issue related to your digestive system. This could surely be the key to living a more fulfilled life, especially when it comes to healthy eating practices and a proper height to weight ratio.
As mentioned elsewhere, it is perfectly okay to have some ice cream or a small glass of champagne once in a while. There is no point in keeping yourself away from eating what you love the most. Once you choose to exercise or meditate regularly, you can beat the mal-effects of eating a bit indulgently with your friends and relatives.
Our wellness experts believe that selective restriction is the name of the game, and you just do not have to shut yourself out from the world to lose weight. The festive season is no exception. In fact, fasting would help you start on a positive note.