Thinking of how you may switch from couch to a 5k race this year? Not quite an impossible task but it would require a lot of planning and hard work. You would need to wake up early, have nutritious meals, and find yourself a fitness trainer (preferably). You should also check with your doctor if you have any issues related to your respiratory, cardiac, or nervous system.
Obesity and stress are two of the most common ailments in the world today. They arise from hectic lifestyles, ill-advised eating and sleeping patterns, and a lack of fitness. But it is often not easy to switch to an active lifestyle easily, especially in a post-pandemic world.
To counter the latter argument, one can avail the guidance of a virtual fitness expert. It is a safe, on-demand, contactless, and personalized model of consultation that can be availed at any time and from anywhere. The next hiccup can be answered by turning around from a sedentary lifestyle (or being a couch potato) and training oneself for running 5k sprints.
Couch to 5k race: How to prepare for it?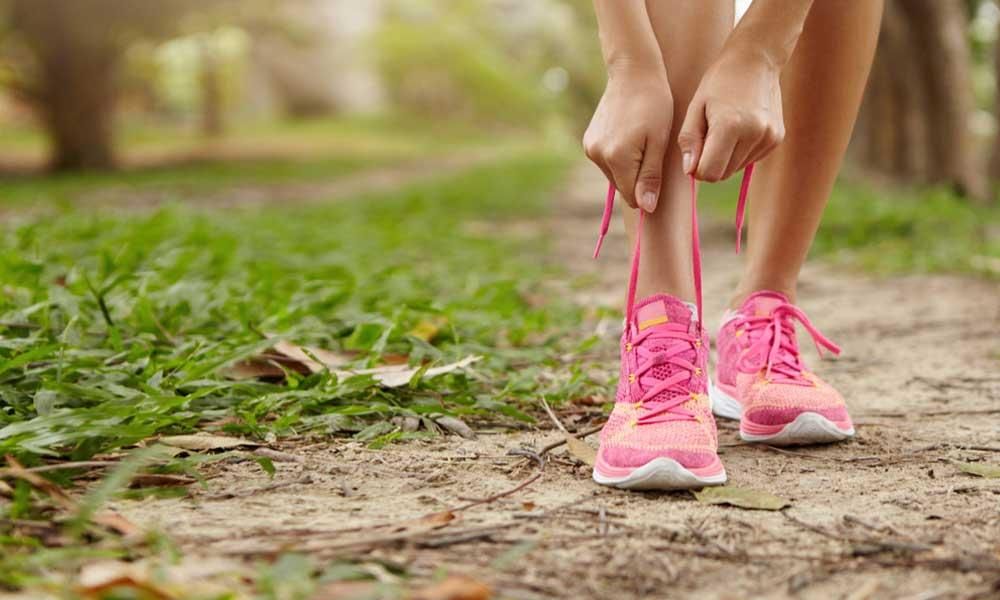 Research shows that you can get to your first 5k race in as little as two weeks. However, our fitness experts believe that it may come with a lot of T&C attached. For example, this time frame is valid for fitness professionals who have an active lifestyle and are living on a restricted diet.
Merely switching to such an energy-intensive workout plan could backfire if someone suddenly jumps from a sedentary lifestyle to the one running 5k. This is especially true for couch potatoes and people living a laid-back life. We recommend giving your body some time to acclimatize itself to the changes.
You may start with brisk walking and improve it to run a 5k Race. They would help you lose weight faster, gain lean muscles, improve blood sugar and blood pressure levels, and reduce stress. These two simple exercises will help you burn up to 700 calories in an hour. The key is to go for small and incremental goals under expert guidance.
Suggested article: How To Increase Your Running Stamina And Endurance?
What is an ideal 5k training plan for beginners?
Running increases your metabolism and pulse rate, and is counted as the simplest of all exercises. You should stretch before running, especially if you're a beginner. If you skip this important step, it could lead to muscle cramps or shin splints. You may also tear a ligament in the worst case.
Start with sprints during your walking routine, slowly building up your pace to a "run-walk," eventually running 30 minutes altogether. This would also allow your mind, body, and spirit to align themselves.
5k Training Plan = Proper Diet + (Warmup + Walking + Running + Resting + Cool Down)
You should focus more on going further without being too hard on yourself. If you are obese or overweight, it would be even more difficult for you and you might even start panting up. Once you get hold of it, you should add some weight-loss-specific workout plans to your running plan.
Here's how you can get started:
Go for a seven-week 5k running training plan. Our online fitness experts recommend that you should not stop doing other exercises that you have been doing so far, though you may reduce their reps. You should take a day off from workouts every week.
Alternate between 15 seconds of walking and 30 seconds of running.

Repeat this exercise for 30 minutes.

Wear a fitness tracker to keep a track of how much you have run and walked.

Aim for one mile in the first week and then increase it gradually every week.
Printable PDF Guide to 5k Race for Beginners:
Couch to 5k: How can I make a running plan on a treadmill?
If you are looking for a printable guide for a 5k race plan as above, we recommend that you also add it with a running plan on a treadmill. This is because running on a treadmill will help you increase your heart rate and burn some extra fat on your belly and lower midsection.
We also recommend that you consult a personal training expert to get started with your fitness, especially if it requires a gym-based setup consisting of equipment like treadmills and dumbbells.
Printable running guide for a treadmill:
How long is a 5k race in miles?
A 5k run is measured in kilometers and is equal to 5kms. If you prefer measuring it in miles, it is equal to 3.1 miles.
What is the average time required to complete a 5k race?
The usual time required to complete a 5k race should not be more than 35 minutes for beginners. Fitness experts prefer to complete it in less than 17 minutes.
The world record for the minimum time required is 14.06 minutes. It was made by Letesenbet Gidey on 20th March 1998 in Spain.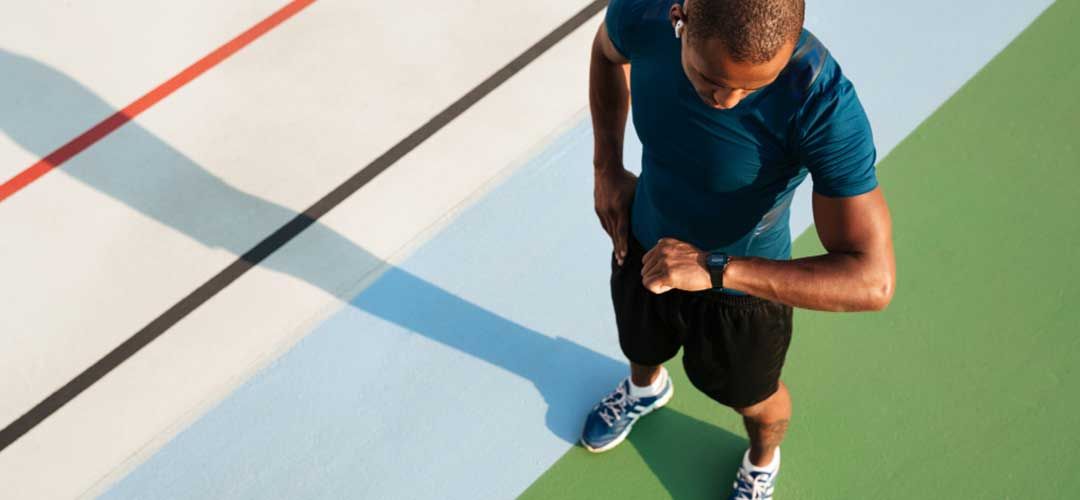 How do I know if there are any upcoming 5k races near me?
To check for any upcoming 5k races near you, you should check the local listings in the newspapers or do an online search. Several companies organize races and marathons in the festive seasons (usually from September to December) every year, and you could use this opportunity to go ahead.
Is running 5K five times a week enough to stay healthy?
Running a 5k race five times a week is advised for all runners. If you are only interested in staying fit and maintaining yourself in top shape, you can do with just three 5k races per week.
Why are races measured in kilometers like 5k instead of miles?
This is because of two reasons. First, because the kilometer is the standard unit of measuring distance in most parts of the world. Second, measuring in multiples of a thousand meters is more convenient as compared to measuring fractions in miles.
What to eat before a 5k race?
Our virtual fitness and wellness experts recommend having high-protein foods to develop leaner muscles. You should thus go for avocados, milk, oatmeal, dried fruits, peanut butter, eggs, almonds, oats, cheese, Greek yogurt, etc.
You should stay away from drinking excess coffee or tea, and switch to green tea for the best results. Be sure to stay hydrated by drinking six liters of water every day. You may also have some sports drinks to keep a proper count of electrolytes in your blood.
Expert tips: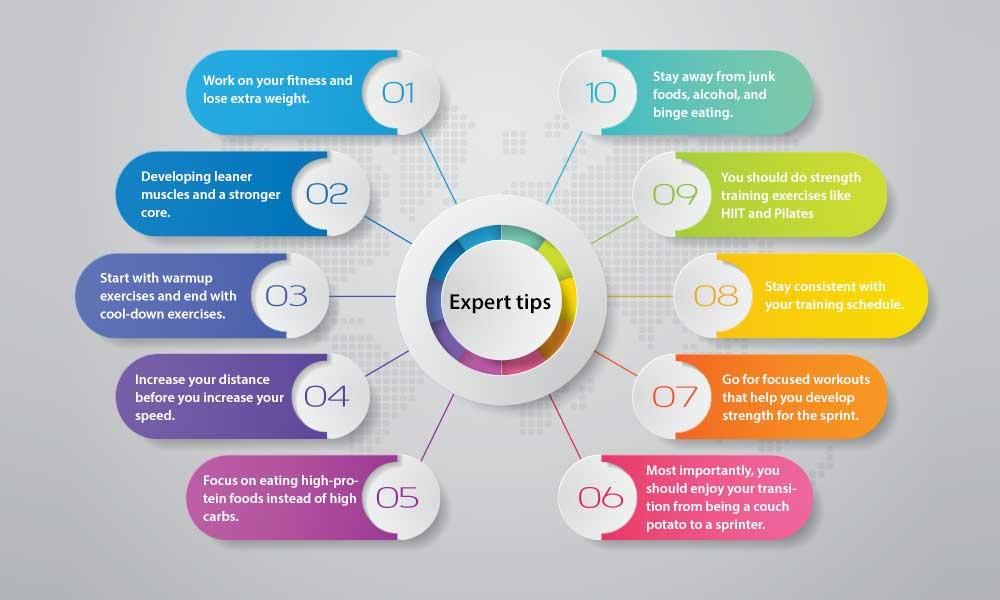 1. Work on your fitness and lose extra weight.
2. Developing leaner muscles and a stronger core.
3. Start with warmup exercises and end with cool-down exercises.
4. Increase your distance before you increase your speed.
5.Focus on eating high-protein foods instead of high carbs.
6. Stay away from junk foods, alcohol, and binge eating.
7. You should do strength training exercises like HIIT and Pilates
8. Stay consistent with your training schedule.
9. Go for focused workouts that help you develop strength for the sprint.
10. Most importantly, you should enjoy your transition from being a couch potato to a sprinter.
Tip: As a beginner, you may also stay away from running more than three days per week.
Take time to recover and train comfortably
The key to completing a 5k run is to listen to your body because the human body grows stronger when it's resting. This is why alternating between run days and rest days is so important. It allows your body to be stimulated by the exercise and then recovers during your rest days.
Many beginners make the mistake of over-training and running too much too soon, causing fitness issues like leg splints to arise. You can prevent body aches, injuries, and fatigue by listening to your body and working out under expert guidance.
Are you an experienced fitness trainer or an expert in sprinting?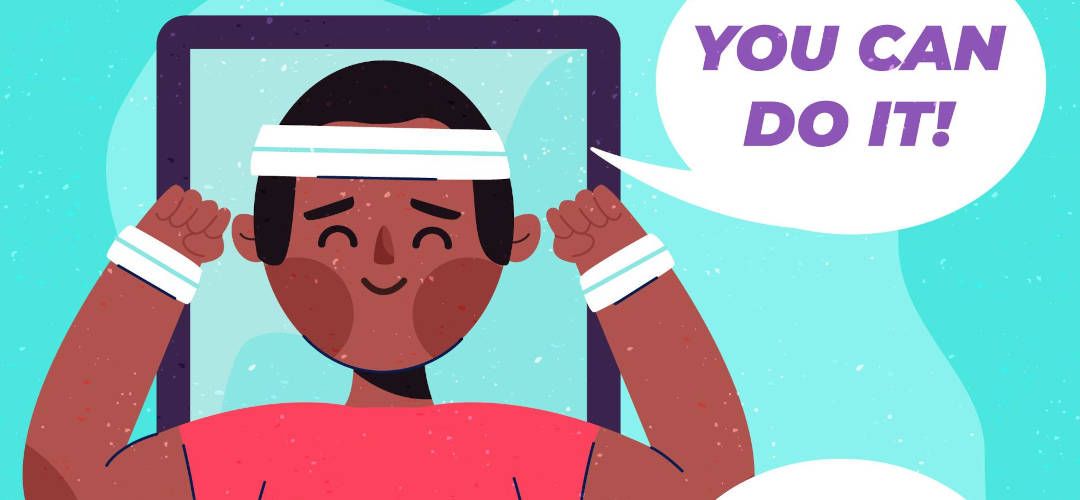 You would start from a position of advantage if you are an experienced personal training expert or if you are someone who knows a better way to run races and sprints. You can invite your existing clients aboard a secure online platform and start training them virtually.
That way, you could also attract a wider clientele from around the world by building on positive word-of-mouth publicity. In other words, you could go online and global at the same time, and thus maximize your professional footprint. This will help you increase your revenues.
Here's how you can use a software-based approach to be with your clients and guide them through the process, no matter where you are and what else you are doing.
Start and finish your 5k Race like a winner!
If you're running at a comfortable pace you should be able to talk through running. If you're gasping for air, it means you're running at a pace that you are not yet physically ready for. You should slow yourself down or maybe even go back to the basics.
Remember, if you could talk through running, it means that you are running at the right pace.
When you run too fast for too long and too quickly, you can hurt yourself. You may also feel bad if your body doesn't respond the way you want it to. It is when the fun factor drops and you start counting the seconds until you're finished. You also put yourself at risk of an injury.
Once your heart is out of it, it can be hard to keep your head in the game. The secret to finishing your 5k training is knowing you can run a little further each day. This would bring you closer to your goal of completing a 5k race and being a champion!